Brightline completes Zone 2 of its Orlando extension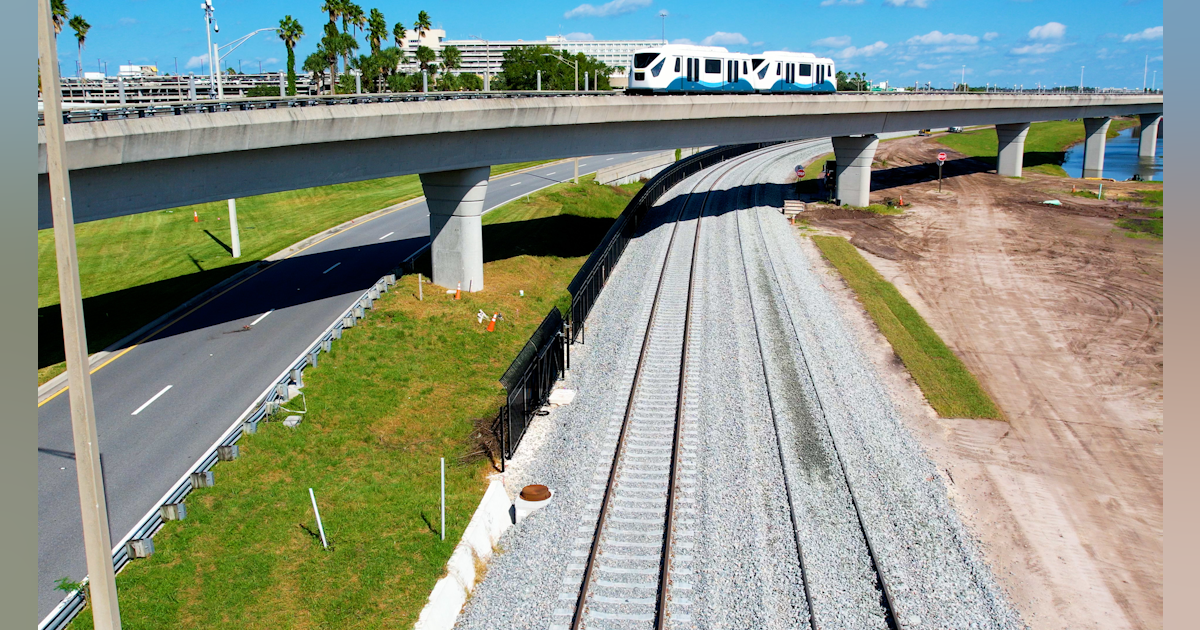 Brightline has completed Zone 2, a 3.5-mile section of corridor that is part of its extension from West Palm Beach to Orlando International Airport (OIA). While Zone 2 is one of four zones in the 170-mile extension, Brightline says it "represents one of the most complex and challenging construction zones in the entire project."
Zone 2 is a technical dual carriageway that runs under the airport's active taxiways and over the tow roads that run through the heart of OIA. Construction elements in this area include six bridges, two underpasses and several airport improvements, including a new traffic interchange configuration at Cargo Road, located north of the airport and the first roundabout in the airport designed to facilitate traffic.
Brightline has completed additional infrastructure on the project to accommodate future transportation options through the airport, including embankment, bridge foundations on tug routes and a shared underpass on Cargo Road. The project was built in partnership with the Greater Orlando Aviation Authority (GOAA).
Beginning in 2023, Brightline trains will traverse the airport corridor at 35 mph before heading east along SR 528 toward Cocoa where they will reach top speeds of 125 mph. Trains operating in Zone 2 will have access to the airport's new intermodal terminal and the Beachline/SR 528 freeway.
"The inclusion of intercity rail service at Orlando International Airport has been part of our vision since the planning and design of our world-class facilities," said Brad Friel, director of planning and development, GOAA. "It's very gratifying that the Brightline team can help achieve this goal almost 40 years later."
The Orlando extension is 70% complete and is expected to be complete by the end of 2022. The Orlando-based Middlesex Corporation served as the general contractor and built the hallway in 33 months with the work of over of 100 employees who have logged more than 419,000 hours.
Project subcontractors included Delta Railroad Construction, Inc. of Ashtabula, Ohio, HWR (a joint venture of Herzog and Railworks) of Melbourne, Florida, Sterling Enterprises, LLC of Lake Helen, Florida, Transportation Systems Inc. of Orlando , G&C Welding Specialists of Sanford, Florida, Keller of Orlando and Tierra, Inc. of Winter Garden, Florida.
The track was built with recycled American-made steel from Steel Dynamics North America Inc., in Ft. Wayne, Ind., and concrete ties made by Rocla at its purpose-built factory in Ft. Pierce, Florida. With Zone 2 now complete, Wabtec of Jacksonville, Florida will be installing positive train control under a contract with Brightline.
"Our build through OIA presented one of the most complex build efforts of this entire project and our success is a testament to partnership, teamwork and out-of-the-box thinking," said Michael Cegelis, vice- Executive Chairman, Development and Construction. for Brightline. "The collective efforts of the Greater Orlando Aviation Authority, Middlesex Corporation and our team have resulted in the first-ever high-speed rail corridor at one of the nation's busiest airports."