CapMetro Inaugurates New MetroRail Station at Uptown ATX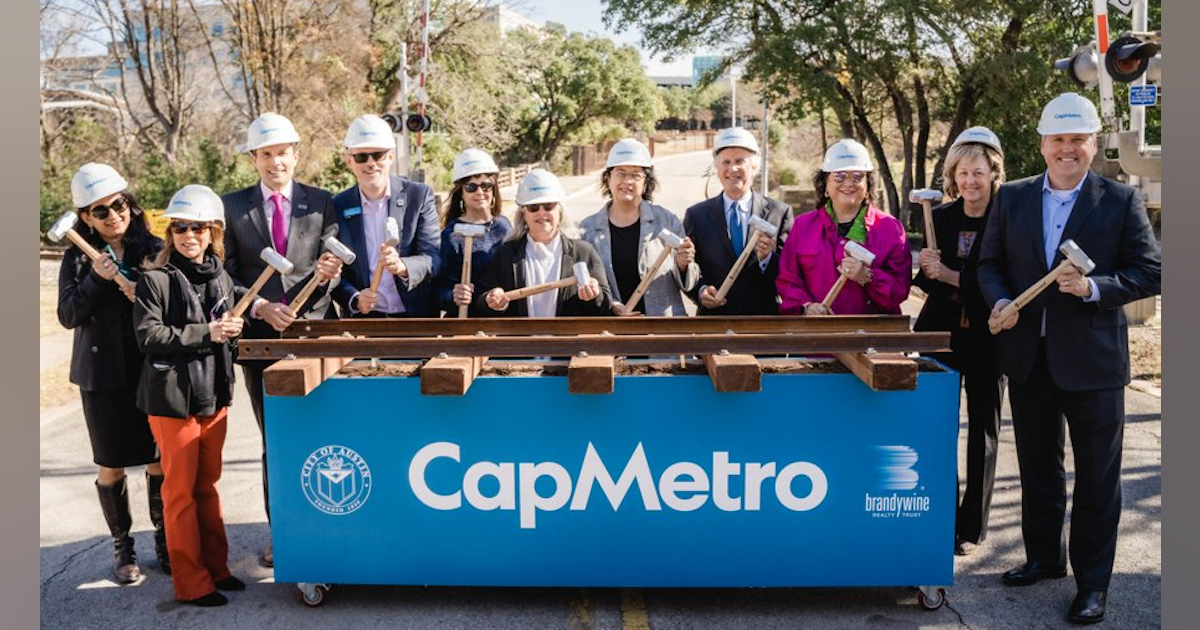 The Capital Metropolitan Transportation Authority (CapMetro) opened its new Broadmoor MetroRail station on January 19.
The station will be located on Brandywine Realty Trust's Uptown ATX campus, a 66-acre master-planned mixed-use development in the growing North MoPac corridor. The 50/50 public-private partnership between Brandywine and CapMetro will create direct rail access to this rapidly growing employment, housing and lifestyle hub.
The announcement represents the culmination of more than five years of planning when CapMetro, the City of Austin, Brandywine, Charles Schwab and the Austin Chamber of Commerce began discussions about developing a new transportation venue in common which will now become Broadmoor MetroRail station. The development sits on a parcel of land donated by the 50-acre Gracy Farms campus of Charles Schwab & Company, adjacent to the estate.
"This partnership is a great example of private and public organizations working together for the benefit of our city to provide affordable and connected living opportunities for our residents," said Leslie Pool, CapMetro Board Member and Member of the Austin City Council. "This station will connect the entire city to emerging businesses and mixed-income neighborhoods in the area, while regulating traffic and increasing access for essential workers."
The station will provide reliable multi-modal transit connections throughout Austin, as well as safe pathways and access for pedestrians and cyclists. The station offers two double-length covered platforms for customers to wait comfortably and safely, as well as more than 400 shared parking spaces for transit users. The canopy covering the platforms is designed as an architectural element.
"With Austin's explosive growth over the past few years, the area around our site has become the geographic center of the metro area's population of two million people. As the next step in our master plan, we saw an opportunity to introduce a critical transit connection by forging a public-private partnership with CapMetro to bring a new commuter rail station to our site," said Jerry Sweeney, President and CEO of Brandywine Realty Trust.
"Building Broadmoor Rail Station next to our campus will be an added benefit for the 2,800 Charles Schwab employees based here, as well as the wider community," added Dennis Howard, Managing Director and Director of information from Schwab. "By contributing a parcel of our property to the project, we continue to demonstrate our commitment to Austin while giving our teams the ability to take advantage of the convenience of public transit that is essential as the region experiences tremendous growth. "
Recognizing the opportunity to invest in Austin and care for its residents, Brandywine is committed to providing 50% of all affordable units required by the City of Austin as on-site units for the entire development of Uptown ATX.
"These are the kinds of initiatives our city and community members need," said Nora Linares-Moeller, executive director of HousingWorks, a nonprofit that aims to increase housing supply. affordable in Austin. "With soaring rental prices in Central Texas, this commitment will bring relief to many families in the area."
The Uptown ATX development and its transit connections is a good example of a transit-oriented development or TOD. TODs include a mix of retail, residential, office, and entertainment centered around or located near a transit station. Dense, walkable, mixed-use development near public transit attracts people and contributes to vibrant, connected communities.
Attending the ceremony were State Representative Celia Israel, CapMetro Board Member and Austin City Council Member Leslie Pool, CapMetro and ATP Board Member Eric Stratton, Deputy City Manager of Mobility Gina Fiandaca, Chairman and CEO of CapMetro and Executive Director of ATP Randy Clarke, Brandywine CEO Jerry Sweeney and Charles Schwab Managing Director/Chief Information Officer Dennis Howard.
Local musician Scott Strickland performed at the ceremony, and Food Heads and Cranky Granny's provided refreshments.
Broadmoor station is due to open in 2024. Future Red Line upgrades will also include a new MetroRail station at McKalla, located at Q2 Stadium.