CapMetro inaugurates the new MetroRapid Pleasant Valley route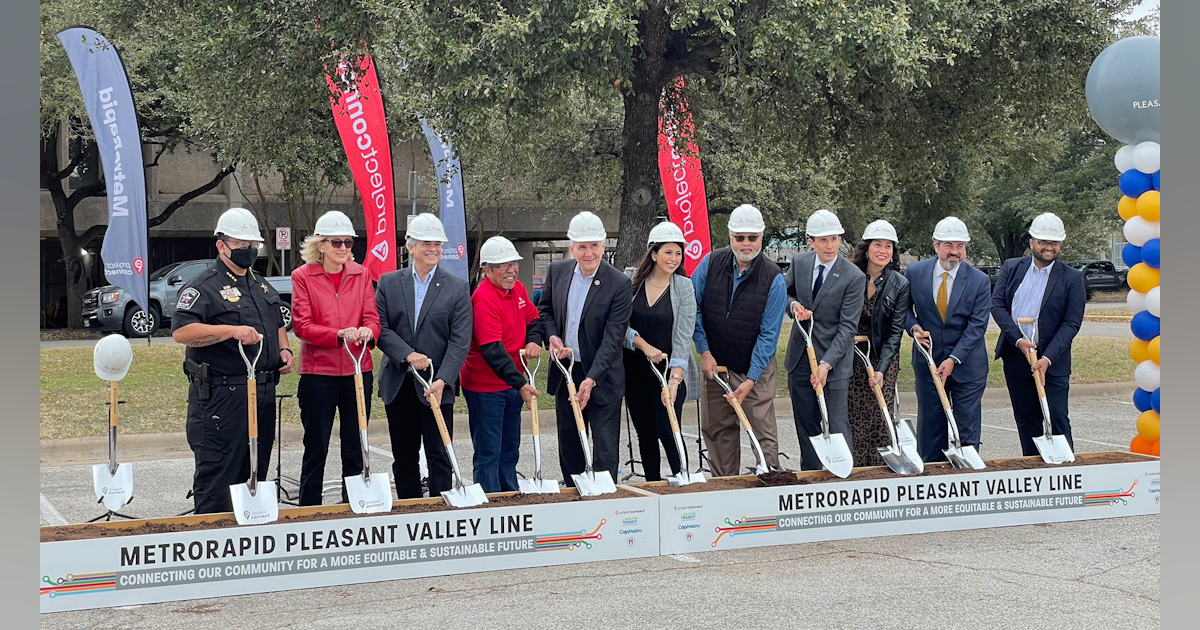 Capital Metro's (CapMetro) Project Connect team inaugurated the MetroRapid Pleasant Valley route on February 16.
This new route is one of four new MetroRapid routes included in the Project Connect program of projects and will traverse East Austin from Mueller to the future Goodnight Ranch Park & ​​Ride. It will have 15 stations and include stops at ACC Eastview, Riverside, Dove Springs and McKinney Falls. The route will improve the frequency and quality of service for neighborhoods in east and south Austin.
"To propel our growing economy forward for all Austinites, we are building a more connected community that opens up new opportunities for all of our neighbors," said U.S. Representative Lloyd Doggett (D-TX-35). "This new MetroRapid route does just that, providing convenient and affordable new access to jobs and neighborhoods for everyone."
Also present at the ceremony were Texas Representative Eddie Rodriguez; Steve Adler, ATP Board Member and Mayor of Austin; Travis County Attorney Delia Garza; Sabino "Pio" Renteria, CapMetro Board Member and Austin City Council Member; Austin City Council member Vanessa Fuentes; Constable George Morales; and CapMetro Chairman and CEO Randy Clarke. Also in attendance were MetroRapid customers and community members.
"We are all aware of the growth that is happening in Austin and the importance of expanding transit options to accommodate that growth," Renteria said. "Implementing this new MetroRapid route will make it easier for all of us in the East Austin community to get to where we need to go with better reliability and frequency."
CapMetro commissioned artist Jonathan "Jay" Diaz to work collaboratively with the community to create original artwork that reflects the Dove Springs community and the sustainability of public transportation. Jonathan has lived in Dove Springs for about 10 years and has spent much of his life using public transportation.
"From trips to school to trips to work, CapMetro has been one of my favorite things about Austin," Diaz said. "I thought of Route 7 as an escape vessel, where I could hop on and just be whisked away. I would usually bring a sketchbook, drown in the music, and create. to bring together transit, art and the community of Dove Spring.
Diaz was present at the ceremony and his works were on display. Juan in a Million provided refreshments for attendees and guests.