Exeter Emergency Bus Service meeting called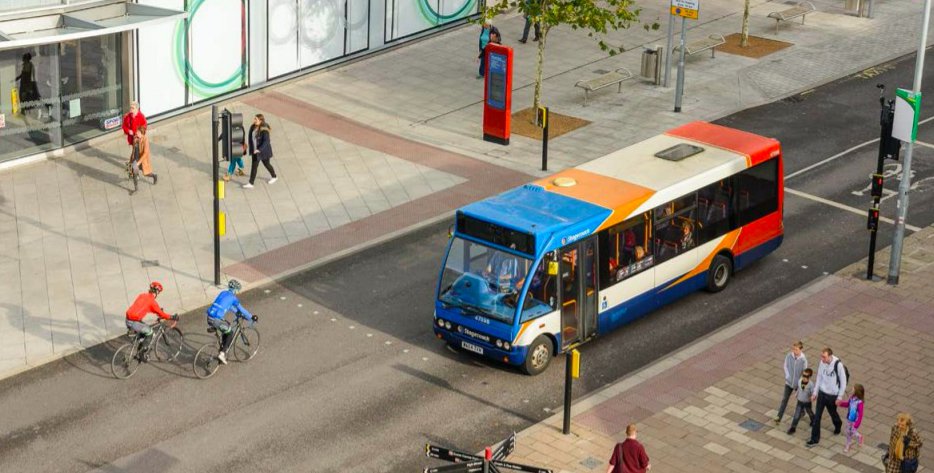 Exeter buses come under fire (courtesy Devon County Council)
Advisors are "overwhelmed with complaints"
An emergency meeting has been called to discuss the 'truly shocking state' of bus services in Exeter.
The city's bus network has struggled in recent months, with a shortage of drivers and a drop in passenger numbers leading to cancellations and reduced timetables.
Labor councilors have now called for an urgent meeting of the Exeter Highways and Traffic Orders Committee (HATOC) to address their concerns about bus operators and to hear from residents, unions and local activists.
Councilor Rob Hannaford, leader of the group at Devon County Council, called the meeting – the date of which will be announced shortly.
He said it was: 'in response to the truly shocking state of bus services in and around Exeter. We've all been overwhelmed with complaints and concerns for months, and enough is enough!
"It is only appropriate that we call a formal emergency meeting in response to this crisis, as thousands of passengers are seeing their journey interrupted and delayed every day.
"We don't blame our local drivers or managers for doing their best under impossible circumstances, but we do have a leadership role to play, including looking for new ways to deliver better bus services."
Cllr Hannaford, who represents Exwick & St Thomas, added that privatization and deregulation have: 'freaked our communities and left us with a broken market' and called for councils to have more control over services.
Speaking at the last HATOC meeting in January, Mike Watson, director of Stagecoach South West, cited inflation, a recent increase in staff salaries and the removal of a number of subsidies, which weighed on finance.
As a result, he warned that service levels would 'almost certainly reduce', but added that the operator would try to avoid withdrawing entire routes and that any reductions would be made 'with sensitivity' in consultation with the county council. .
Exeter City Council Leader Phil Bialyk (Labour, Exwick), himself a former bus driver, backed the meeting request: "It is clear that something needs to be done to improve our local buses.
"Exeter is the economic center of Devon, and our vision of a thriving sustainable city must include first-class public transport that is fundamentally based on reliable, affordable and accessible bus service."
During the pandemic, the government's bus stimulus grant has helped operators keep services on the road. It was recently announced that this would be extended for another six months from April.
However, Devon County Council – the county's transport authority – has yet to find out how much money it will receive.
On service issues, a council spokesperson said last week: 'We are aware of the impact of the current shortage of bus drivers in Devon, which is also a wider national issue.
"As new recruits come in, operators advise that it can take at least 12 weeks to fully train a new member of staff."
The Green Party also describes the problems in Exeter as a 'crisis' and called last week for a London-style system where fares, ticketing, routes and timetables are run by local authorities, instead of businesses private.
In response, a Stagecoach spokesperson said: "We continue to run over 90% of our services as normal. As is the case for organizations across the country, we have seen an impact of the pandemic on staffing levels.
"Our teams are working very hard to continue to execute our planned services for customers. We have also significantly increased our recruitment efforts to attract new staff to join our driving teams.
"Where there are necessary changes to services, we continue to ensure customers are updated with as much notice as possible."
They added: "Buses have a positive long-term future. They are at the heart of the government's goals for economic recovery, leveling our regions and ensuring a net zero future for our country.
"We remain strongly committed to working with our local authority partners, who share responsibility for ensuring high quality bus networks, to maximize future opportunities."
Devon County Council says it has yet to hear from the government whether its 'ambitious' £34million bus improvement plan, submitted in late October, has been successful.
The county's proposals, developed in partnership with Devon's bus companies, aim to make them cheaper to use, greener, more frequent and more reliable.
Also included are plans for regional area tickets to simplify fares by working with neighboring councils and introducing 'youth' tickets for 16 to 18 year olds – one of the age groups heavily reliant on buses.
However, it has been revealed that the national pot available to local authorities who submit improvement plans has been reduced from £3billion to £1.4billion.
Devon Cabinet Member for Transport, Councilor Andrea Davis (Conservator, Combe Martin Rural) recently said: 'To meet the ambitions of this plan, we need a stable, attractive and affordable public transport network in across the county to rely on."
A spokesperson added that while waiting to hear the offer: "In the meantime, we remain committed to sustainable transport, but appreciate the current difficulties faced by operators."