First solar canopy installed at WMATA's Anacostia station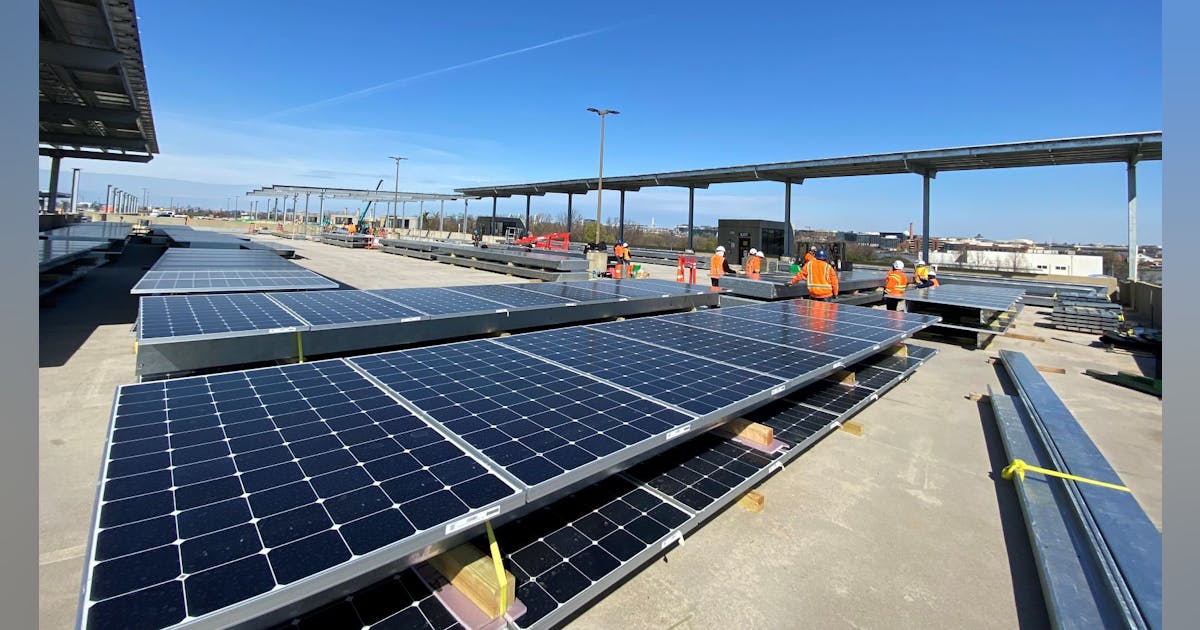 The Washington Metropolitan Area Transit Authority (WMATA) has installed the first solar carport at its Anacostia station, the first of four stations where solar carports are installed.
After work began in the fall, SunPower Corporation completed the installation of the first solar canopy atop the Anacostia parking lot, consisting of 240 solar panels. The project will generate clean energy for the area and provide new parking garages and security upgrades for WMATA customers.
Each of the four stations will consist of several solar canopies. In Anacostia, five solar canopies with a combined total of more than 3,000 solar panels are expected to be completed later this summer. Once completed, the Anacostia site alone should produce electricity equivalent to the power used by 165 homes per year.
The solar carport project is a joint venture with leading solar technology and energy services provider SunPower and Goldman Sachs Renewable Power LLC (GSRP). SunPower installs solar carports at WMATA stations at no cost to the authority. A subsidiary of GSRP will own the photovoltaic solar panels, generating electricity for homes and businesses in the area. In return, the 25-year agreement will provide a long-term revenue stream for WMATA.
"Metro is committed to being a regional partner in making our communities more sustainable, through transportation, green building and innovation," said WMATA Managing Director/CEO Paul J. Wiedefeld. "Through this partnership, Metro is helping provide local businesses and homeowners with clean energy."
Solar canopies will also be installed at Southern Ave, Cheverly and Naylor Rd stations and will accommodate approximately 11 acres of combined solar panels.
Collectively, WMATA says the projects are among the largest community solar projects in the Mid-Atlantic region and are expected to deliver nearly 10 MW of renewable energy to the local grid. The electricity produced by the combined projects is expected to be equivalent to the electricity used by 1,100 homes each year and will be available to local residential and commercial customers.
WMATA customers will also benefit from the project with improved parking facilities, including extreme weather protection, brighter and more efficient LED lighting, new security cameras and emergency call boxes.
Additionally, initial construction activities are underway to install solar carports at Southern Ave station, while work will begin at Naylor Rd and Cheverly stations later this year.
The project is part of WMATA's Sustainability Initiatives and Energy Action Plan and will help advance DC's Clean Energy Plan which aims to halve carbon emissions and transition to 100% renewable energy in 2032.