Hoffman & Associates and GoTriangle Begin Construction of RUS Bus Project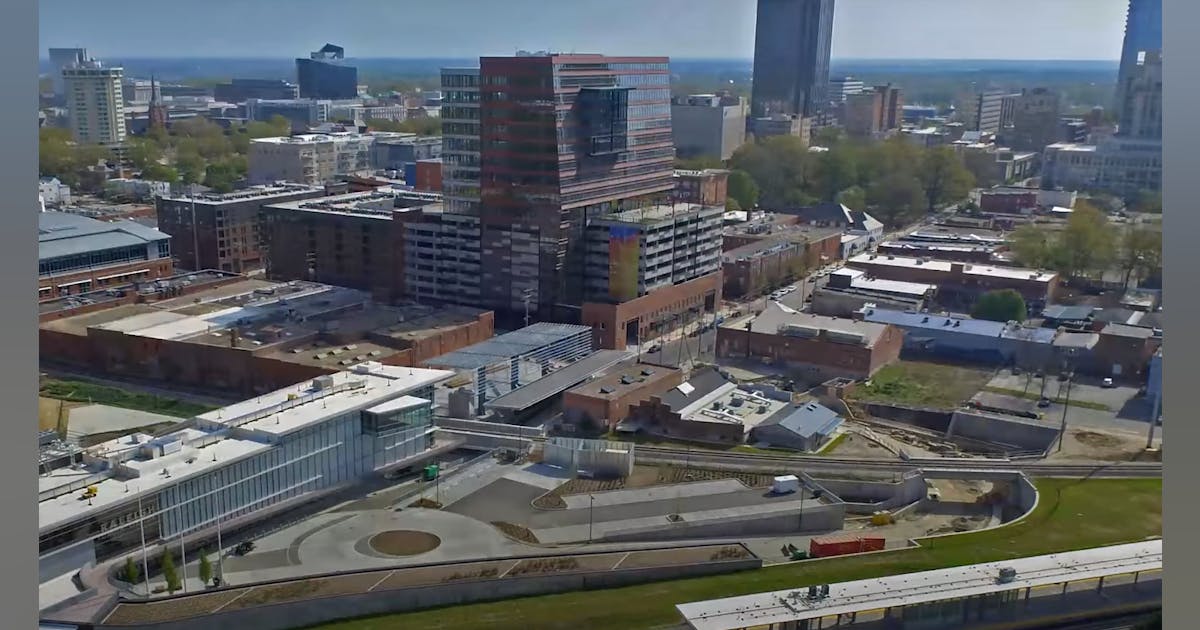 Construction began April 25 on a bus facility and transit-focused development project in Raleigh, North Carolina. The Raleigh Union Station Bus Facility will be a mixed-use development that includes a new bus facility as well as residential, hospitality and retail space.
Partners Hoffman & Associates and GoTriangle explain that the Raleigh Union Station Bus (RUS Bus) facility with Raleigh Union Station will create a multi-modal hub designed to improve mobility for Wake County residents.
"We are honored to have the opportunity to work alongside GoTriangle and continue to shape the landscape of downtown Raleigh while improving the region's connectivity," said John Florian, executive vice president of Hoffman. & Associates for the Southern Regional Office. "The RUS bus will serve as a crucial element in downtown Raleigh's transportation and connectivity goals, alongside a carefully integrated mixed-use development and community space. As Raleigh continues to experience expansive growth, RUS Bus will provide expanded service and value to the community as a whole.
Construction on the 1.76 acre site will begin with site preparation, including the preservation of part of the existing West Street warehouse facade which will be incorporated into the new development. Groundbreaking is expected in 2023. The project is expected to be completed in mid-2025 and will include off-street transportation space for local and regional buses, as well as pedestrian and bicycle improvements along a new pedestrian bridge connecting RUS Bus to Raleigh. Union Station and infrastructure to support a future bus rapid transit station.
"We are excited to begin construction on this transformational project," said GoTriangle President and CEO Charles E. Lattuca. "This single bus transfer facility connected to Union Station in Raleigh will provide essential transit connections for people across the region to get where they need to go. This project is the culmination of collaboration with federal, state, local and private partners to improve transit connectivity, and we thank them for their support.
GoTriangle acquired the RUS Bus site – formerly owned by Dillon Supply – in 2005 with the support of a grant from the Federal Transit Administration. The public component of the project, including the off-street transit facility, is funded in part by a $20 million grant from the United States Department of Transportation, along with matching funds from states and counties.
"As Wake County's population grows at a rapid rate, GoTriangle and its partners are working to advance public transit options, promote housing affordability, and spur economic growth," said the Wake County Commissioner and GoTriangle Board Chairman Sig Hutchinson. "This public-private project addresses all three fronts. In 2025, commuters arriving at the RUS Bus Facility and Raleigh Union Station by train, bus, bicycle or on foot will find easy access to get to their destination.
At full construction, RUS Bus will house 500,000 square feet of mixed-use space on West Street, with plans for 18,000 square feet of retail space, more than 400 multi-family apartments and 200 hotel rooms. With 10% affordable residences for households at 80% of median family income in two high-rise buildings, RUS Bus will increase housing options in the area. In the only high-rise residential buildings in the Warehouse District, residents will enjoy unparalleled connectivity and unobstructed views of downtown Raleigh.
"RUS Bus – connected to Union Station in Raleigh – will help us take a giant leap towards our vision of a regional transit system that connects people to opportunity and a choice of travel options," said said Raleigh Mayor Mary-Ann Baldwin. "Whenever we can build mixed-use pedestrian communities connected to transit, everyone wins."