Improvements to Exhibition Station mark start of Ontario Line construction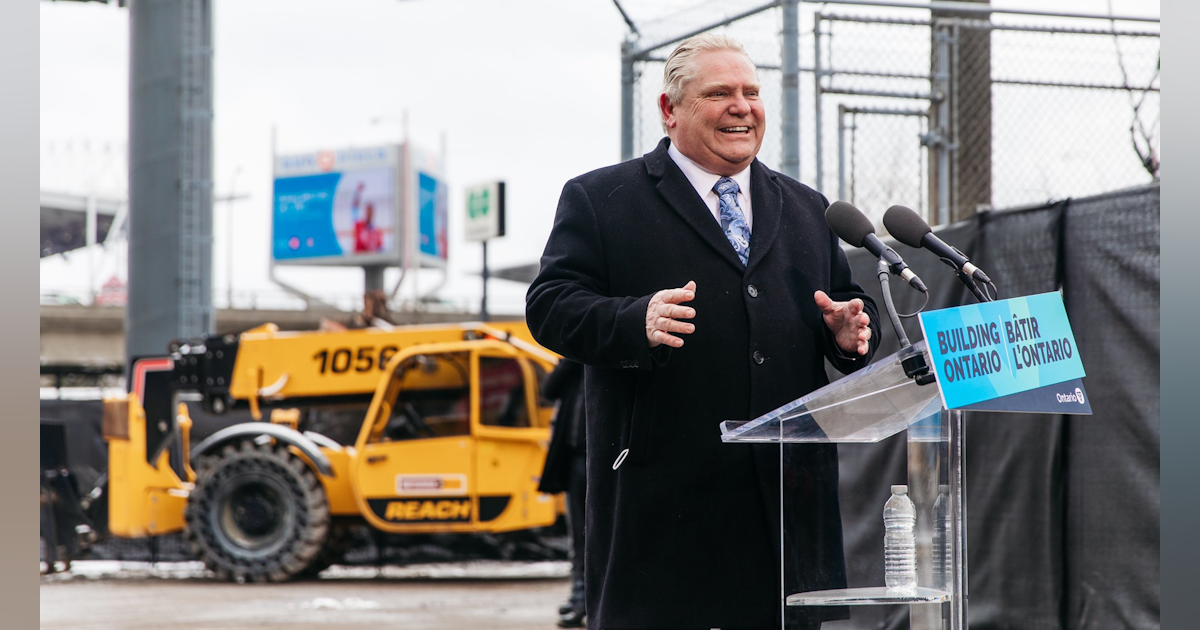 Improvements that began at GO Transit's Exhibition Station on March 27 also marked the start of construction on one of the provincial government's four priority transit projects, the Ontario Line.
Exhibition Station, currently on the GO Lakeshore West line and on the west segment of the future 15.6 km (9.7 mile) Ontario line, is expected to be one of the Ontario line's most popular stations with connections to GO trains and the Toronto Transit Commission (TTC). Station upgrades include a new Atlantic Avenue station entrance and exit, relocation of the existing GO track, and creation of a new train platform. A temporary pedestrian bridge will also be built over the existing GO tracks to provide customers with additional safe access to trains between Liberty Village and Exhibition Place. The station will be completely closed and will have accessible paths between the lines and the platforms to facilitate connections.
"The exciting work that is beginning now involves retrofitting the existing expo station to keep people moving during major construction," said Malcom MacKay, project sponsor from Metrolinx. "Providing continued access to GO train services through new features like a temporary pedestrian bridge, new platforms and new station entrances is essential for us.
Work commencing at Exhibition Station is considered preliminary work and major construction work is expected to begin in 2023 on the new station, tracks and platforms for Ontario Line and GO rail services.
Ontario Line

In addition to beginning work on the future line, the Ontario government has released initial renderings of 14 of the lines' 15 total stations. While the design of the stations will be finalized at a later date, the renderings show the first planning concepts.
"We worked hard to develop these early renders because we know communities are excited to hear more about our plans, and we know a picture is worth a thousand words," MacKay said. "These designs are early concepts – a starting point – that future project partners will work on while following our design principles. They will help guide our conversations with communities about what is possible from a design perspective as we move plans forward.
At a March 27 event that kicked off construction at Exhibition Station and marked the start of construction of the Ontario Line, Ontario Premier Doug Ford called the line a game-changer and highlighted his role in the provincial government's efforts to advance the municipal and regional economy.
The Ontario Line is the third of the province's four priority transit projects to see construction begin, following the Scarborough Subway Extension in June 2021 and tunneling for Eglinton Crosstown West. When completed, it will provide connections to 40 other transit routes, including Lakeshore East, Lakeshore West and Stouffville GO train services, TTC subway lines 1 and 2, future TTC – known during construction as the Eglinton Crosstown LRT – and streetcar lines. at 10 Ontario Lines stations.
"These types of connections are going to help us speed up travel times and reduce congestion at key pinch points like Union Station. The unveiling of these improvements brings us a significant step closer to helping Toronto residents need transit," said Metrolinx President and CEO Phil Verster.
Capital costs for the Ontario Line are estimated at C$10.9 billion (US$8.73 billion). The Ontario Line and the three other priority transit projects will be funded in part by nearly C$17 billion (US$13.6 billion) from the province and more than C$10 billion (US$8 billion). Americans) by the Government of Canada.