IndyGo inaugurates the Purple Line BRT project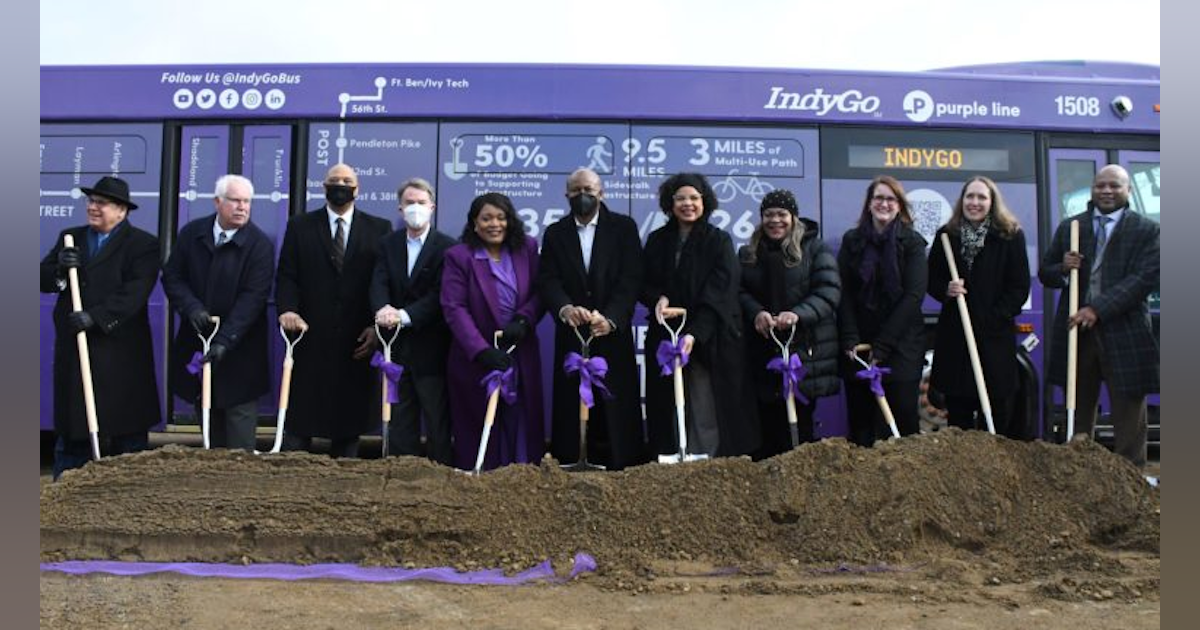 The Indianapolis Public Transportation Corporation (IndyGo) held a groundbreaking event on February 25 to mark the start of construction of its second bus rapid transit (BRT) line, the Purple Line. The BRT project will connect downtown Indianapolis to Lawrence – neighborhoods once served by streetcars and other forms of urban transportation. IndyGo believes connecting communities to the Purple Line will take them back to the "bustling, prosperous days of the past."
"The start of Purple Line construction symbolizes the start of new opportunity and growth for an entire community," said IndyGo President and CEO Inez Evans. "We know this project will bring unprecedented renewal and phenomenal transformation, as residents will embrace the opportunity to move forward faster."
When the Purple Line opens in 2024, it will connect nearly 60,000 residents to more than 134,000 jobs, all within walking distance along the 15.2-mile corridor. Of residents living within walking distance, more than 30% are classified as low-income and more than 61% identify as minority.
"Connection and improved mobility are critical to the success of our city and its residents," said U.S. Representative André Carson (D-IN-7). "The Purple Line will take IndyGo's bus rapid transit network to the next level and set an example for the nation of what's possible when you put community and riders first with mass transit. faster, innovative and emission-free."
The Purple Line is the second of three planned BRT projects included in the Marion County Transit Plan. The first BRT, the Red Line, opened in fall 2019 and the third BRT project, the Blue Line, is currently under design.
The Purple Line will feature 60-foot zero-emission articulated buses serving redesigned stops with median locations, digital screens with real-time information, level platforms, security cameras, emergency telephones at blue light, as well as wind and drip screens – free eaves.
The $188 million project secured an $81 million grant under the Federal Transit Administration's (FTA) Capital Investment Grant (CIG) program in August 2021. In addition to the CIG grant, the remaining project costs are covered by a combination of local funding from approved transit income tax, the Indianapolis Department of Public Works, and other FTA and Federal Highway Administration sources.
"We at the Federal Transit Administration have seen how public transit has benefited cities across the country," said FTA Regional Administrator Kelley Brookins. "IndyGo is leading the way with one of the nation's largest all-electric fleet BRT lines and we are thrilled to be able to support their ongoing efforts with more than $103 million in federal funding to continue the extraordinary work."
Shortly after securing the federal grant, IndyGo awarded two contracts in December 2021 to support its construction, including one to Crider & Crider for the project's civil works package and another to FA Wilhelm Construction Co. for the construction package. communications.
The purple line will replace an existing local bus line and serve a total of 31 stations, including 13 existing red line stations. Additionally, the service will use 5.3 miles of the Red Line and build 9.9 miles of exclusive bus lanes.
The project will also significantly improve a significant portion of the existing Route 39 along the East 38th Street and Post Road corridors. Major infrastructure upgrades will include nearly 10 miles of sidewalks, 392 ADA curb ramps, new street paving, a three-mile multi-use path, storm sewer separation, and 25 new or upgraded traffic signals.