InnoTrans announces high bookings ahead of 2022 show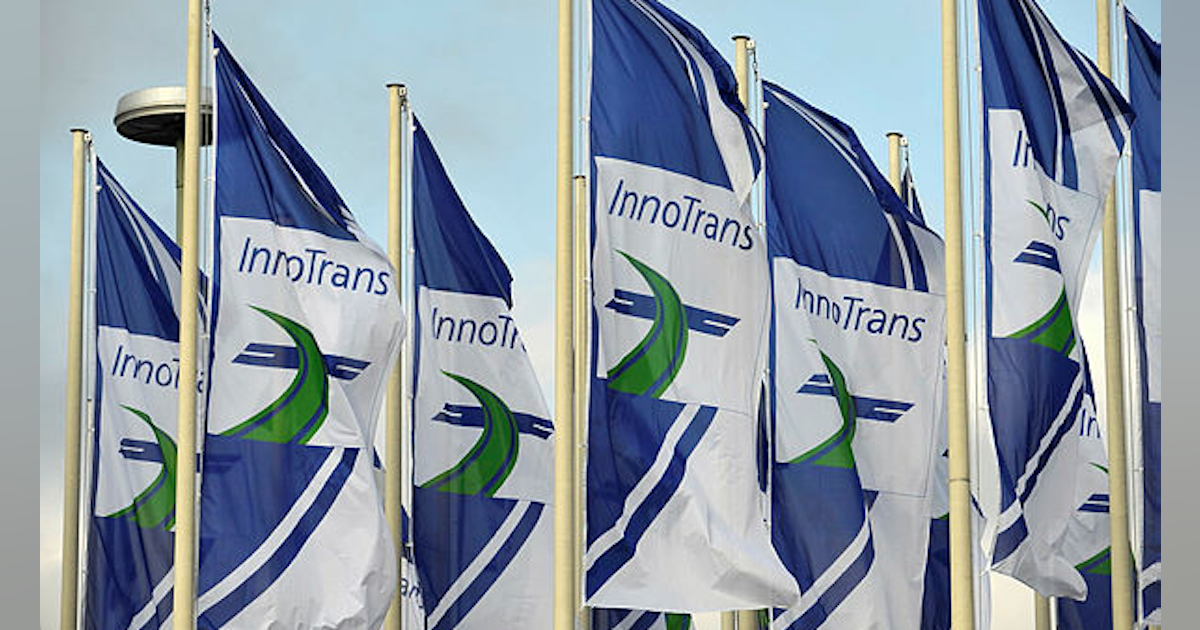 InnoTrans is reporting strong demand and strong international interest ahead of its September 20-23, 2022 event at the Berlin Messe.
The exhibition area of ​​the show is 98% booked. Of these booths, 64% will be international exhibitors, which is equivalent to the last in-person InnoTrans event held in 2018.
"The continued strong demand shows that after a long break, the mobility sector is keen to come together again for the global industry platform in September 2022," says Kerstin Schulz, Director of InnoTrans.
Attendees can explore 108,000 square meters (1.16 million square feet) of exhibition space themed "The Future of Mobility in the Age of Climate Change". Exhibitors will present their innovations in the 42 halls of the exhibition center in the segments Rail technology, Rail infrastructure, Public transport, Interiors and Tunnel construction. Mobility+ screens are a new part of the public transport segment, where InnoTrans targets providers of additional mobility services. Currently, 18 exhibitors have registered for this special segment, including ioki, Mobimeo, Optibus, Door2Door, Better Mobility and CleverShuttle.
German and foreign associations will represent the industries of their respective countries, including Swissrail (Switzerland), MAFEX (Spain), JORSA (Japan), ARIA (South Africa), CAMET (China), CRIDA (Taiwan), KORSIA (Korea) and ALAF (Argentina). For the first time, the International Monorail Association, an association dedicated to promoting the monorail sector around the world, will participate. In addition, a combined stand with Zeleros Hyperloop and Hardt Hyperloop will showcase the latest developments in ultra-fast terrestrial hyperloop transport systems for passengers and freight.
Extended Virtual Services

Visitors can prepare for the fair on the new virtual industry platform InnoTrans PLUS, where exhibitors can be found 365 days a year. This platform offers extensive services, including chats, matchmaking, live and on-demand content, as well as webinars and a dating tool. In addition, the InnoTrans podcast previews topics with international guests, with a focus on the future of mobility. New podcast episodes air on the second Tuesday of each month.
The event opens with a high-level panel discussion

InnoTrans will kick off with a panel discussion featuring high profile politicians and industry figures. Currently, the following industry personalities are scheduled: Dr. Richard Lutz, CEO of Deutsche Bahn AG; Peter Spuhler, CEO of Stadler Rail; Henri Poupart-Lafarge, Chairman of Alstom Transport SA; Michael Peter, CEO of Siemens Mobility GmbH.
Tickets available online from March 2022

From March 2022, day tickets, student tickets and unlimited passes can be purchased at the ticket office. Tickets are available for mobile devices, will allow contactless access and entitle holders to free use of public transport in Berlin (ABC zones) for the specified period. Ticket purchases and voucher redemption will take place online only. No ticket office will be open on the ground.