MARTA announces the launch of electric buses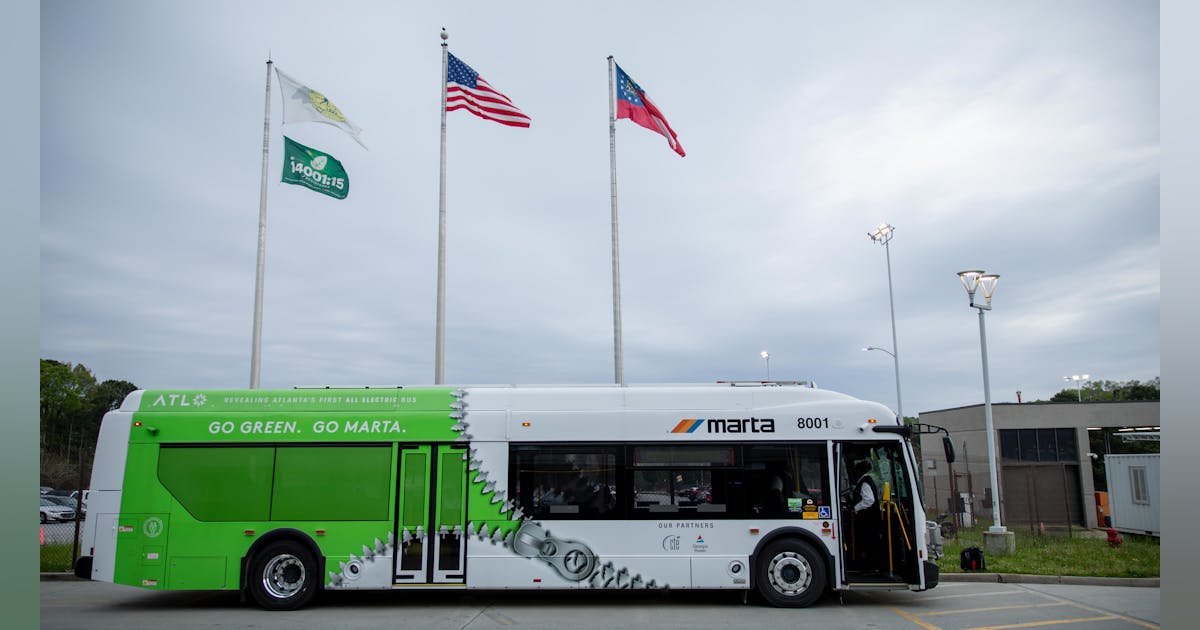 The Metropolitan Atlanta Rapid Transit Authority (MARTA) has announced the launch of its first electric buses.
MARTA, with support from the Federal Transit Administration (FTA) and partners New Flyer, Siemens, and the Center for Transportation and the Environment (CTE), will put three electric buses into service on Routes 2 and 102 starting May 1. .
Routes 2 and 102 depart from the North Avenue station and together serve the Ponce de Leon Avenue corridor between Midtown and the Poncey-Highland neighborhood while connecting to Ponce City Market and the Beltline Eastside Trail. At the east end of the route, the 102 turns south to the Edgewood shopping district, terminating at the Edgewood/Candler Park station, and the 2 continues east on Ponce de Leon Avenue to East Lake station.
"Electric buses are ideal for routes that traverse dense city corridors like the 2 and 102 – leaving no noise or emissions in their wake," said MARTA Managing Director and Acting CEO Collie Greenwood. "Our goal is to continue adding electric buses to the fleet to help fight climate change and reduce the public health impacts of air pollution, especially in our most vulnerable populations."
"DeKalb is proud that MARTA's new electric buses operate out of the company's Laredo Bus Operations and Maintenance facility, located in DeKalb County. This facility has one of the largest arrays of solar panels in the state," added DeKalb County CEO Michael Thurmond. "We wholeheartedly support sustainability and are thrilled that the first route for these buses will be a DeKalb County/City of Atlanta route."
In 2019, MARTA received a $2.6 million FTA Low/Emission Free Bus Grant to support the purchase of six electric buses and charging infrastructure. The buses replace the 2005 diesel buses and will reduce MARTA's fleet emissions by approximately 935 short tons of greenhouse gases, while also reducing harmful fine particulate matter linked to various health issues.
Recently, $3.8 million in congressional-directed spending was secured to support the purchase of six additional buses, bringing the total electric fleet to 12. Similar to Clayton Southlake Bus Rapid Transit (BRT). This project will use 10 electric buses to provide high-capacity transit service from College Park Rail Station to key destinations in Clayton County. Electric buses will also be used on Atlanta's first BRT route along Summerhill Road to connect Beltline, Peoplestown, Summerhill, Capitol Gateway and South Downtown.
MARTA's remaining bus fleet is mainly made up of compressed natural gas buses which contribute to the reduction of the authority's carbon footprint, reducing emissions equivalent to keeping more than 370,000 cars off the road or powering almost 300 000 households for one year.
Last year, MARTA received the Gold Level from the American Public Transportation Association for its Sustainability Engagement Program, recognizing the authority's ongoing commitment to sustainability initiatives that positively impact the environment. environment and the communities it serves. By integrating sustainability efforts into four categories (buildings, environment, community and climate), MARTA has reduced water consumption by 40%, greenhouse gas emissions by 27%, energy by 14% and waste by 13%, over a seven – year period.