MBTA Begins Work to Accelerate Green Line Safety Improvements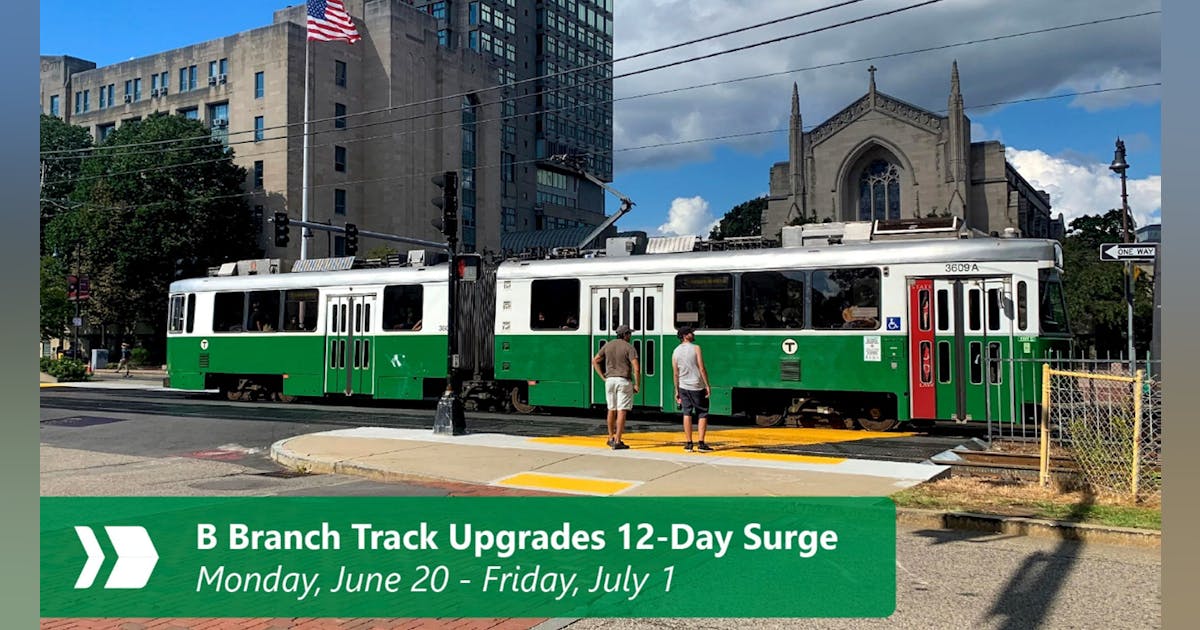 The Massachusetts Bay Transportation Authority (MBTA) Capital Transformation Team will have a 12-day full access closure on Branch B of the Green Line between Boston College and Kenmore stations in both directions beginning July 20 June through July 1, 2022, to perform much-needed track upgrades while installing Green Line Train Protection System (GLTPS) equipment throughout the system.
Once the closure is complete, the team will have replaced more than 3,000 feet of track, four special track work units, and upgraded one intersection and one crosswalk. A video showing the upcoming enhancements is available online.
"Safety is our top priority," MBTA Chief Executive Steve Poftak said. "Having a full access closure like this allows our team to complete an enormous amount of work in a short period of time. By doing so, we are able to expedite construction and resume regular service to all passengers safely and quickly.We know these types of service disruptions are frustrating and we thank the riders of the Green Line B branch for their patience while we complete this important track and safety work.
Most construction efforts will take place at Linden Street in Allston, the Washington Street Crossover in Brighton and the Cardinal Crossover located near Boston College. Crews will replace special works on the track and perform a full track reconstruction, creating a safer and more reliable ride for riders in Branch B. This closure is one of four that will take place on the other side of the Green Line this year. By completing a 12-day closure, the Green Line Transformation Team saves six months of weekend diversions.
"Having this 12-day shutdown allows our team to improve the safety and reliability of Branch B at an accelerated pace," said Angel Peña, Chief Capital Transformation Officer, MBTA. "Accelerating this work not only allows us to make improvements as quickly as possible, but brings our team one step closer to a good state on the Green Line."
An alternative service will be offered to users of branch B throughout the planned closure. Accessible shuttles will replace service between Kenmore and Boston College Stations. Shuttles will not stop at Warren Street, Allston Street or Packards Corner stations due to inaccessible sidewalks.
Capital Transformation follows a holistic approach to transforming the green, orange and red lines. The program is aligned with six levels of transformation: improving safety and restoring infrastructure to good condition, improving accessibility, replacing existing fleets, increasing passenger capacity, modernizing the passenger experience and extending service.