Met Council: Developers invest near high-frequency public transport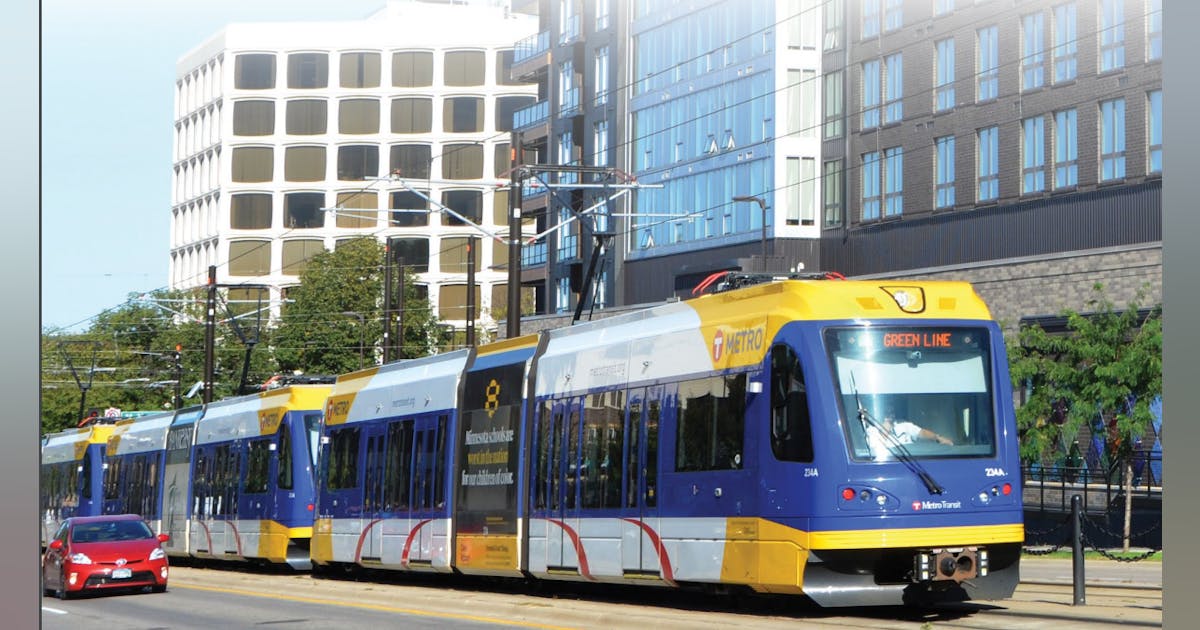 The Metropolitan Council has shared highlights from Metro Transit's Office of Transit-Oriented Development 2021 Annual Report, which reveals that $15 billion in development was permitted along high-frequency transit between 2003 and 2020, and that an additional $9.5 billion of development is planned in these corridors in the Twin Cities.
For example, a significant portion of permitted and planned development in the Seven County Metropolitan Area continues to be located within a 10-minute walk of transit corridors that provide high-frequency service, including the METRO Green Line , which totals nearly $12 billion in permits and planned development.
Of all the transit corridors in the region, the METRO green line has seen the highest level of authorized and planned development. The total value of development authorized since 2003 for commercial, public and industrial development combined is over $4.6 billion. Add the multi-family residential permitted value since 2009 and it totals nearly $7.5 billion. The corridor has an additional planned development of $4.2 billion.
Developers validate the appeal of high-frequency transit
"We strongly believe in the ability of light rail to encourage investment in both the urban core and the suburbs," said Steve Wellington, CEO of Wellington Management. "We completed our fourth Green Line housing development in 2021. We have also developed four housing projects on the Blue Line and two more are underway on the Green Line extension.
"These 10 projects in Minneapolis, Saint Paul and Minnetonka total 1,313 units and represent an investment of more than $350 million. Four of these projects (428 units) are 100% affordable. We also own and manage two office buildings and three light rail shopping centres," Wellington concluded.
Construction of the METRO Green Line Extension from Target Field southwest to Eden Prairie is approximately 60% complete. To date, the corridor has seen $1.7 billion in authorized development and an additional $656 million currently planned.
METRO Gold Line, not yet under construction, sees new development
The METRO Gold Line is a planned 10-mile rapid transit line that will connect Saint Paul, Maplewood, Landfall, Oakdale and Woodbury. The Gold Line will be the first bus rapid transit line in the state to operate primarily in bus-only lanes, primarily in the Interstate 94 corridor. Construction is expected to begin this year.
Since the line entered the project development phase of the federal New Beginnings program in January 2018, there has been more than $388 million in authorized development within half a mile of the route and one development an additional $1.2 billion is planned.
41 percent of the area's multifamily development has occurred along high-frequency transit
The report reveals that between 2003 and 2020, $15 billion in development was permitted along high-frequency transit, including:
41 percent of the area's multifamily development by permit value
39,200 multi-family dwellings – 61% of these dwellings are located near light rail, 40% near bus rapid transit and 30% are served by local high-frequency bus lines
39% of commercial development in the region
28% of public and institutional development in the region
7% of industrial development in the region
An additional $9.5 billion in development is planned along high-frequency transit, representing 67% of the development currently planned for the area. This new development will add an additional 35,200 multi-family units, nearly doubling the number of residences with immediate access to high-frequency public transit.
Transport links and efficient land use are essential to economic vitality
"The economic vitality of this region depends in part on the quality of our transport links and the efficiency with which we use the territory," said Charlie Zelle, president of the metropolitan council. "Robust high-frequency transit and transit-oriented development connect affordable housing, jobs, shopping and other key destinations, reducing transportation and housing costs to create fairer choices for the residents.
"As the region grows, infill development along high-frequency transit makes the most of existing infrastructure and community investments, and supports walkable and sustainable communities," he added. "Even our transit routes that aren't yet in service are seeing billions of dollars in investment in nearby housing and jobs."
The pandemic has impacted the pace of development
Preliminary analysis of permit data and local building data indicates that the area has seen a decline in development activity due to the COVID-19 pandemic. However, early results suggest that development has recovered relatively quickly, with construction activity increasing in 2021 both in the region generally and in areas served by high-frequency transit. In particular, multi-family residential development near high-frequency public transit continued to represent a significant share of construction in 2020-21.
The 2021 Development Trends along Transit report used data from the Metropolitan Council's annual Building Permit Survey. It explores trends in multi-family residential development since 2009, as well as commercial, public and institutional, and industrial development since 2003. High-frequency transit includes both light rail and bus rapid transit, which make up the METRO network, but also local buses. routes that run every 15 minutes or less.
The full report is available on the Met Council website and on Metro Transit's website.