Metrolinx begins construction of Bradford GO Station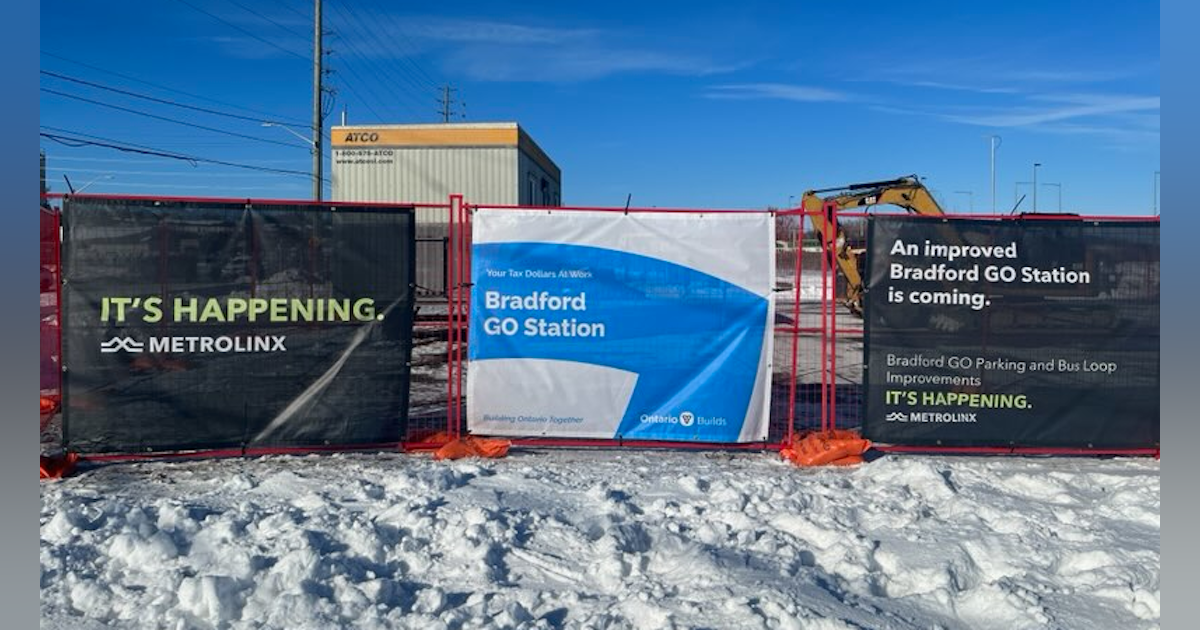 Metrolinx and the Government of Ontario have begun construction at Bradford GO Station that will improve station features and amenities while supporting future two-way, all-day service along the Barrie GO line.
"Bradford residents deserve a modern transit hub that sets them up for success. As we continue to make progress in the fight against COVID-19, our government is also preparing for the return of transit users, which is why we are putting shovels in the ground to better connect communities the along the entire Barrie GO line," said Caroline. Mulroney, Minister of Transport. "Building Ontario through essential transit projects, like Bradford GO Station and expanding GO service in Barrie, is part of our government's plan to improve travel options for residents of Greater Golden Horseshoe region and the entire province.
Construction of the first phase is officially underway. Since mid-January, Bradford GO customers and members of the community may have seen increased construction activity as part of the contractor's mobilization of the project.
The contractor will continue with the mobilization work including erection of construction fencing and signage after which work will commence on site electrical installations and activities for the installation of an underground storage tank for rainwater.
Improvements to Bradford GO Station include the installation of a traffic light at the Dissette Street entrance, three new bus platforms, a bus loop and an improved pick-up and drop-off area. passenger disembarkation which will provide better access to regional GO and local Bradford. West Gwillimbury Transit bus service. Customers will have access to new heated bus shelters, new passenger pick-up and drop-off areas and an expanded parking lot with 33 additional parking spaces.
"I would like to thank the province for initiating this important work that will improve our transit riders' experience in Bradford," said Rob Keffer, Mayor of Bradford West Gwillimbury. "The improvements to Bradford GO are consistent with the establishment of our Bradford West Gwillimbury bus service over the past few years, Simcoe County's new LINX service in our area and the continued expansion of rail and GO buses on the Barrie line. These related transit improvements are essential to our goal of reducing traffic congestion in our region.
The station improvements will support 15-minute service plans on the Barrie GO line beyond Aurora to Bradford GO in the future, serving communities like Vaughan, Aurora and Bradford.
"We are taking the next step to improve the way our customers travel at Bradford GO with direct connections to regional and local public transport, increased security and easier ways to get in and out of the station," said Phil Verster, President and CEO of Metrolinx. "This project is part of GO's expansion which will provide faster and more frequent trips to Bradford GO Station and two-way all-day service for years to come."
Benefits of the Bradford GO project
Improvements to Bradford GO will be delivered in two phases, with the first phase currently underway.
Planning for the second phase is underway and is expected to further expand the car park and other station improvements.
The first phase of the project will improve access to the station for pedestrians and vehicles with the installation of a new traffic light at the entrance to rue Dissette, as well as new sidewalks from rue Dissette and Bridge Street.
Mobility to and from the station will be improved with the addition of a new pick-up and drop-off area and an improved bus loop offering three new bays and a new heated shelter.
The station will also benefit from improved security through improved station lighting and the installation of a new CCTV system.
Part of a growing region
With Simcoe County's population expected to grow approximately 37% by 2041, Metrolinx says it is committed to expanding GO service along the Barrie line.
The work at Bradford GO is part of the larger GO expansion project, which means faster and more frequent trips.
By making improvements today, Metrolinx says it is building infrastructure that will support faster two-way service all day as frequently as every 15 minutes to Bradford GO.