Metrolinx takes steps for GO expansion on the Stouffville line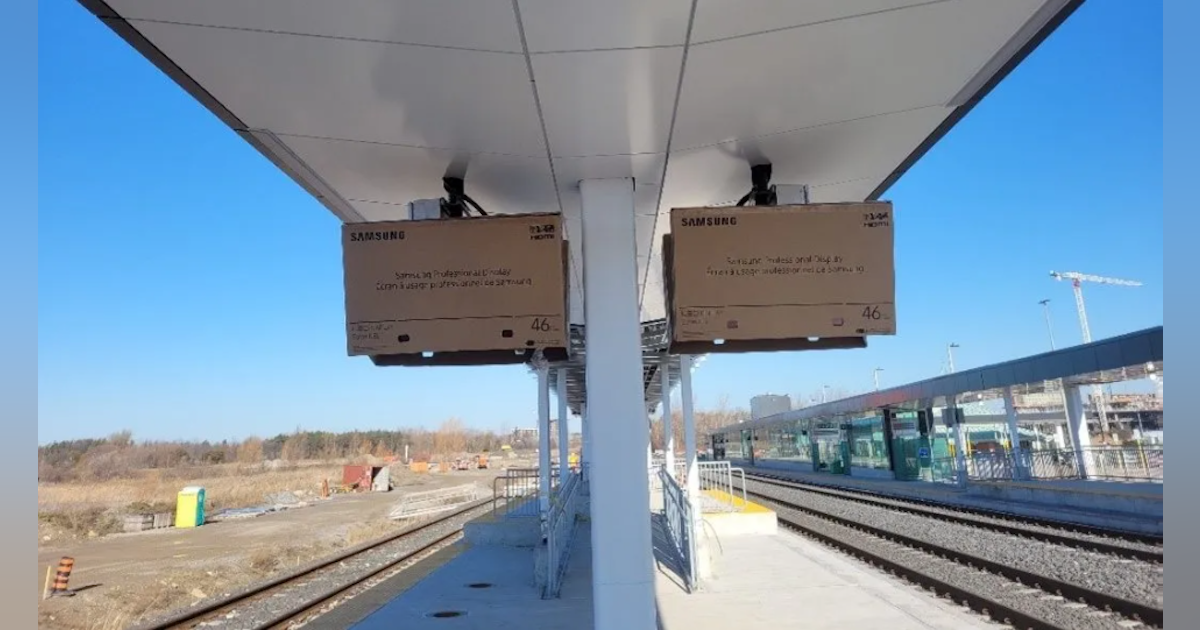 Metrolinx is advancing work on the Stouffville line to expand GO to provide more services and seamless connections.
When the GO expansion project is complete, Metrolinx will be able to offer two-way, all-day service on the Stouffville line every 10 minutes or better to Unionville GO, and trains every 30 minutes to Mount Joy GO.
Currently, teams are working to add new stations, upgrade existing stations, and ensure the right infrastructure is in place to support increased two-way service throughout the day.
Here is the detail of the progress, site by site.
Old Elm GO Station

The new Old Elm GO Station in Whitchurch-Stouffville is nearing completion. Currently the structural steel for the entrance canopy is being installed. CCTV, loudspeakers and electric conduits are also added in the awning to allow lighting of the platform.
In the electrical and generator rooms, concrete was poured for the concrete slab. Boiler assembly in the Auxiliary Building mechanical room continues and circuit breaker type panels in the Auxiliary Building are being installed.
Unionville GO Station

Located in York Region, Unionville GO Station will offer Markham customers more frequent train service every 15 minutes or better to Union Station and back. Crews are busy working on station upgrades, including improvements to the parking lot and platforms.
When complete, customers will have access to over 250 new parking spaces and additional bicycle storage. For better accessibility, the stairs in the parking lot will be replaced by ramps and two new pedestrian tunnels will include elevators.
The train platforms will be equipped with awnings to protect customers from the sun and bad weather while waiting for their train.
Milliken GO Station

Major upgrades are underway at Milliken GO Station.
Once completed, the station will provide customers with better amenities and access to frequent two-way GO train service scheduled all day. This means more frequent service in the middle of the day, as well as in the evenings and on weekends.
Two new pedestrian tunnels with lifts and stairs will improve accessibility. Other updates include a canopy-covered walkway between the platform and Steeles Avenue as well as improved lighting, clearer signage and additional landscaping for an improved customer experience.
Improving the passenger pick-up and drop-off area and increasing bicycle storage space are other ways Metrolinx is making it easier to get to and from the station. Customers will also be able to use pedestrian bridges over Steeles Avenue East to travel to and from the two platforms at Milliken GO Station.
SmartTrack Finch-Kennedy GO

Metrolinx is moving utilities to the site of the future SmartTrack Finch-Kennedy GO Station to prepare for station construction.
The relocation of utilities is an important first step in the construction of the new station, while ensuring that the local community continues to receive reliable, high-quality telecommunications services.
The Finch-Kennedy GO SmartTrack Station will be located on Finch Avenue East between Milliken Boulevard and Midland Avenue and will provide Stouffville line passengers with seamless access to frequent Toronto Transit Commission (TTC) bus connections on Finch Ave.
The station will also include canopies and heated shelters to keep passengers warm and dry, as well as accessible bike parking and drop-off areas.
Agincourt GO Station

The new Agincourt GO Station building opened in the fall of 2021. As station construction continues, the modern building provides commuters with updated amenities.
The new building offers more seating, five new digital screens, a spacious, well-lit waiting area with phone charging stations and a wood-panelled ceiling. The station building is fully accessible with ramps, guardrails, automatic door openers and accessible restrooms.
Steeles Avenue East Underpass

The new underpass (which opened on the south side) and railroad bridge can be seen at the Steeles Avenue East intersection between Kennedy Road and Midland Avenue.
While work continues on the north side of the underpass, construction is expected to be complete by this summer.
By separating the road from the rails, vehicles can pass under a railway line without having to stop and wait for trains. It will also improve convenience by easing traffic and reducing traffic times on Steeles Avenue East. Eliminating the crossing will allow Metrolinx to safely increase future train speeds while reducing congestion for those accessing area stores and businesses.
As progress continues along the Stouffville line, Metrolinx is moving closer to offering frequent, electrified train service in both directions, all day. Coupled with increased connections to local and regional transit, the expansion of the Stouffville line also contributes to a wider network effect in the area.