Mississauga City Council Approves Six Priority Transit Projects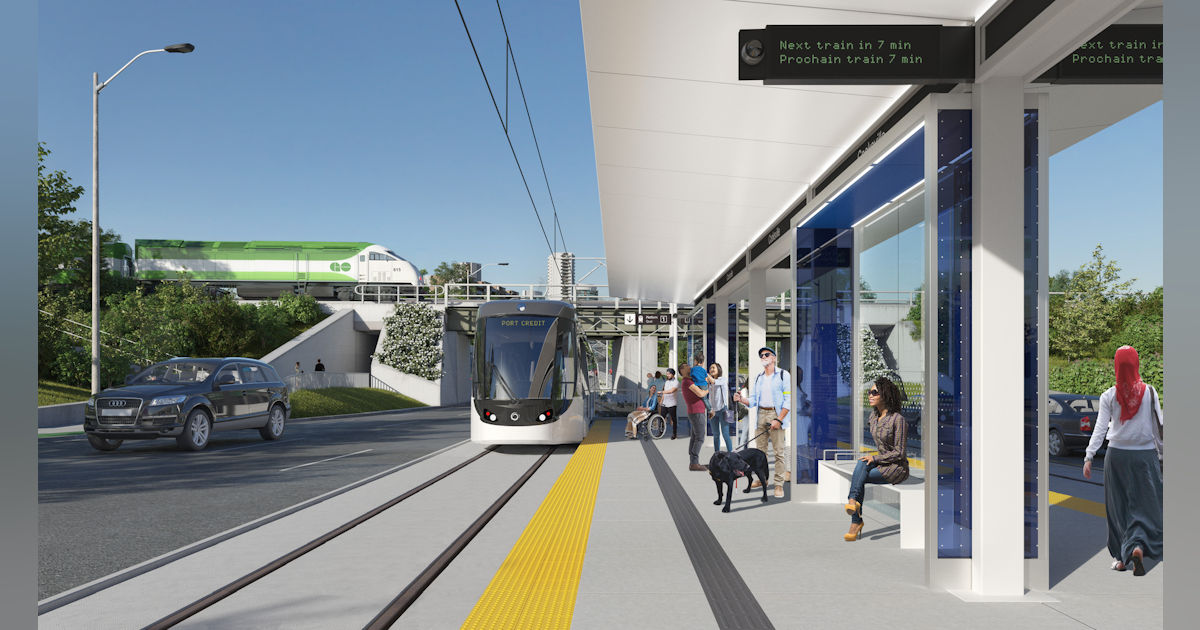 City Council in Mississauga, Ontario has identified six bus rapid transit (BRT), rail and transit hub projects as priority projects. City Council approved the six projects at its September 15 meeting.
"Our goal is to get Mississauga moving and give people an alternative to driving. The priority transit projects we have identified will connect our Airport Corporate Center communities to our downtown core, the city waterfront, and our neighbors to the east and west," the mayor said. from Mississauga, Bonnie Crombie. "These rapid transit lines will spur the growth and development of our city, create jobs and serve essential businesses, and help us achieve our goal of building complete and healthy communities where people can live, work and have fun. The task of building a great city is a shared responsibility, which is why we call on the federal and provincial levels of government to work together to build these essential projects.
The six priority projects identified include:
Lakeshore BRT (and additional transit improvements along the Lakeshore Corridor), which will extend two kilometers (1.24 miles) along Lakeshore Road from Etobicoke Creek to East Avenue.
Dundas Bus Rapid Transit, which will extend the BRT along Dundas Street for 48 kilometers (29.8 miles) to create fast, frequent and reliable public transit between the Greater Toronto and Hamilton Area.
Downtown Mississauga Terminal and Transitway Connection, which will connect the existing Mississauga Transitway along Rathburn Road/Centre View Drive through the city's downtown, with a terminal that serves both MiWay and GO Transit. When completed, the terminal will serve four modes of public transportation.
Extension of the Eglinton Crosstown West (ECWE) light rail transit, which will include seven stops along 9.2 kilometers (5.7 miles) of mostly underground track.
Milton GO Rail Corridor, where increased two-way all-day service will help address growing traffic congestion, meet demand for inter-regional transit service and support economic development.
Hurontario LRT Downtown LRT Loop, which is a three-stop loop in downtown Mississauga that was removed from the planned 18-kilometre (11.2-mile) north-south rail link between Mississauga and Brampton in 2019 due to pressure budgets.
"Once our transit priorities have been identified, we can focus on our financial planning and preparedness should programs, resources or funds become available from other levels of government," said Shari Lichterman. , Commissioner of Corporate Services and Chief Financial Officer of Mississaugua. "Understanding, identifying and confirming our transit priorities allows us to get the information we need when reviewing our capital budget, as there are many competing priorities and limited municipal resources for transit. finance. »
Mayor Crombie added, "Public transit is part of our Mississauga Matters campaign as we seek higher levels of government to make significant investments in our local and regional transit systems – such as two-way, all-day service. on Mississauga's GO transit lines, restoring the downtown LRT loop and rapid transit along the Dundas Corridor – to allow us to break through gridlock and gridlock and get people and businesses moving companies.
As programs develop for transit initiatives, requests for funding will be included in the city's business plan and capital budget process and presented to council for consideration.
"Transit is an important part of our transportation master plan that helps shape Mississauga's transportation system. We are strategic and moving forward with the right projects to develop a multimodal transport system that provides safe and efficient ways to move around the city and connect to other destinations," said Geoff Wright, Commissioner , Transport and works.