Newark Penn Station and Trenton Transit Centers make progress in awarding contracts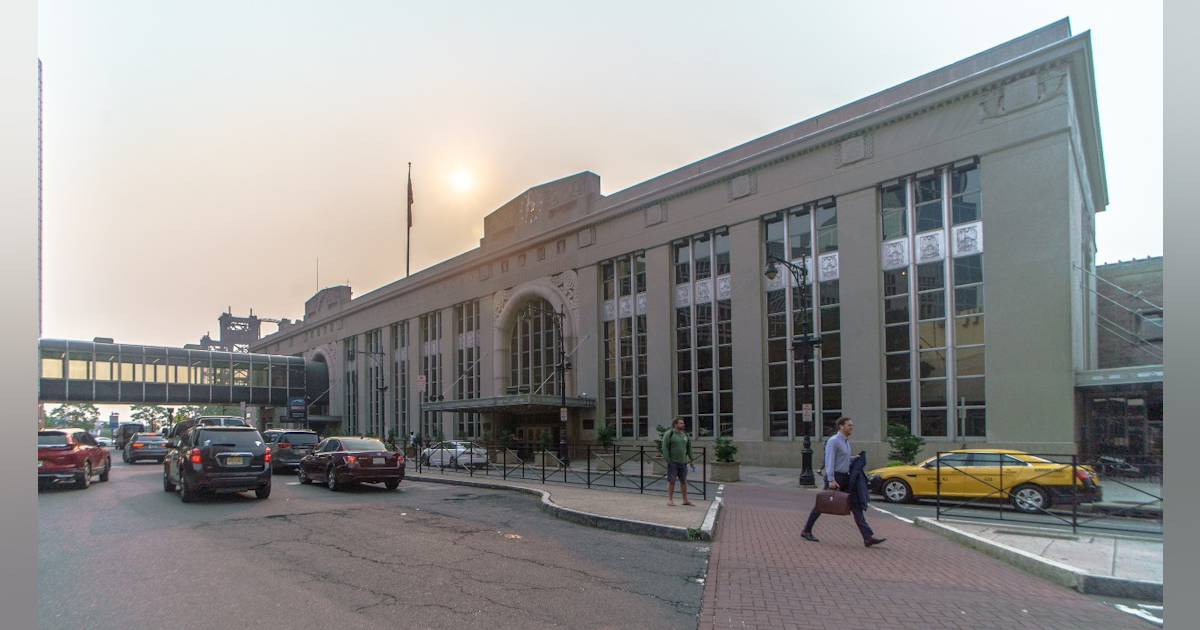 The New Jersey Transit (NJ Transit) Board of Directors has advanced two facility projects with separate contract awards.
AECOM Technical Services, Inc. was awarded a $1.9 million contract for all phases of design and construction support for the Trenton Transit Center Improvement Project and Parsons Transportation Group was awarded a services contract $9.2 million for the restoration and renovation of Newark Penn Station.
Trenton Transit Center

A station has existed on the site of the Trenton Transit Center since 1863 with new stations being built to replace the old one, with the most recent reconstruction taking place in 2008. NJ Transit has also improved the main station entrances and overpass to pedestrians at the hub.
The contract awarded to AECOM is part of the $29 million project to rehabilitate two existing timber platforms with more durable concrete, replace associated canopies, elevators and escalators. The project also includes the conversion of a low level platform to a fully accessible high level platform with elevator access.
NJ Transit received an $18.2 million State of Good Repair grant from the Federal Railroad Administration for the project which will increase customer safety and convenience, increase capacity, reduce maintenance costs and ease platform congestion. -forms.
"NJ Transit is pleased to make significant improvements to one of our state's most essential multimodal transportation hubs," said Kevin S. Corbett, president and CEO of NJ Transit. "Ultimately, this project will create a safer, more modern and more accessible Trenton transit hub with added capacity and convenience for the thousands of customers who use it every day.
Newark Penn Station

The contract awarded for the Newark Penn Station work is a first for NJ Transit and covers professional services to perform master planning, design services and construction support services on a long-term project. The board also approved funding for the first phase of the contract, which includes the preparation of a master plan and the completion of a 10% conceptual design.
Parsons will create construction plans under the master contract that will address both the state-of-the-art needs of the stations, as well as long-term capital improvements, including how to better integrate the station to meet the needs. of its surrounding communities.
"This contract marks the next big step in our efforts to restore and update Newark Penn Station, honoring its past as a cultural focal point and ensuring it remains a vibrant hub for New Jersey residents and travelers alike. visit," the New Jersey Department of Transportation said. Commissioner and President of the NJ Transit Board Diane Gutierrez-Scaccetti.
New Jersey Governor Phil Murphy announced that the station would receive a $190 million investment to renovate and modernize the station, including $30 million for renovations and restorations, followed by $160 million over the next five years.
"Newark Penn Station is one of the most important transportation hubs in the Northeast and a gateway to downtown Newark," Governor Murphy said. "Newark has experienced a historic renaissance in recent years, and our administration is proud to do its part with this historic $190 million investment in the revitalization of Newark Penn Station. Residents, workers, commuters and visitors to Newark deserve a world-class experience when passing through the station. I'm happy to see this project moving forward and I can't wait for it to come to fruition.
A request for proposals for the master plan contract was issued in August 2021. NJ Transit explains that the proposals received were evaluated on their ability to ensure the station has amenities and features that will meet modern passenger expectations. two customers traveling in the station. , as well as those of residents and businesses.
"Newark Penn Station is one of our city's greatest assets. It is a historic structure, a brilliant expression of architecture, and a vital part of our city's economy and transportation network," said Newark Mayor Ras J. Baraka.
Under the phase one contract, Parsons will use a team comprised of Grimshaw Architects and Steer Group to lead the major planning and design portion of Newark Penn Station.
"Under Governor Murphy's leadership, NJ Transit continues to aggressively advance the large-scale overhaul and revitalization of this much-needed, multi-modal transit hub," Corbett said. "Through the Board's action today, this award will build on the extensive work already underway to restore this vital transit hub to its rightful place as one of the crown jewels of the New Jersey."