Officials inaugurate rehabilitation of Metra's 147th Street station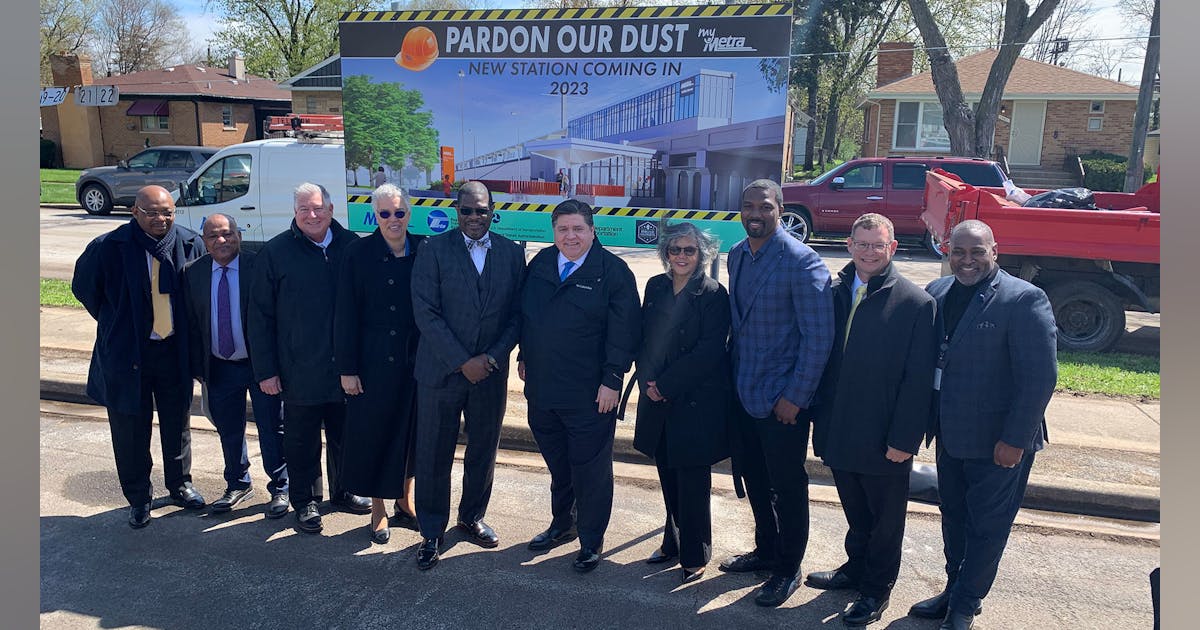 Local and state officials joined Metra in celebrating the groundbreaking for the complete rehabilitation of the 147th Street/Sibley Boulevard station on the Metra power line in Harvey, Illinois.
Attendees included Illinois Governor JB Pritzker, U.S. Representative Robin L. Kelly (D-IL-2), Cook County Council Speaker Toni Preckwinkle, State Senator Napoleon B. Harris III (D-15), State Representative William Davis (D-30), Harvey Mayor Christopher J. Clark, Regional Transportation Authority (RTA) Chairman Kirk Dillard, Illinois Transportation Secretary Omer Osman and Metra Executive Director/CEO Jim Derwinski.
The work, which will require the station to be closed for 12 to 15 months from May 16, is the first major upgrade to the facility in three decades. Throughout the duration of the project, passengers are advised to use the Ivanhoe station on 144th Street or the Harvey station on 154th Street.
"When I proposed the state's $45 billion Rebuild Illinois capital plan, it was for the direct purpose of modernizing transportation infrastructure like the 147th Street Sibley Metra station, which had been neglected for too a long time," Governor Pritzker said. "This sparkling, accessible new station is just one of the investments our capital plan is bringing to Harvey – and with the doubling of state funding for local infrastructure projects in the city, residents should s expect to see more new sidewalks, bike lanes and other local improvements. ."
Metra CEO/Executive Director Jim Derwinski added, "Access to public transit is a critical component of a healthy community and today's groundbreaking marks a new day for the Town of Harvey. . My Metra's goal is to provide a safe, warm and welcoming place for all of our passengers at all of our stations. Our investment here will make our service more attractive and easier to use for existing and potential customers. »
The project will replace the station's existing concrete platform with a more durable composite material. The existing deckhead and passenger shelters will also be replaced, and a canopy covering most of the deck area will be added. The new facility will also include an elevator to access the platform, making it accessible to people with disabilities.
IHC Construction Companies LLC was awarded a $13 million contract for the project in November 2021.
The 147th Street project also includes significant street-level improvements, including a new entrance with a covered staircase, converting the gravel parking area near the station entrance to a kiss-n- paved ride and the addition of bicycle parking. The project will also improve the walkways leading to the main parking lot on the east side of the tracks and new lighting will be installed on the platform and along the sidewalk under the tracks.
The budget for the design and construction is $20 million, with funding from the state's Rebuild Illinois program, the Federal Transit Administration, and a Cook County Invest in Cook grant.
"Better transportation for people in our community means a stronger Harvey," said Harvey Mayor Christopher J. Clark. "I'm thrilled that our great state and federal governments, along with Metra, have invested in our community to build a better Harvey."