Proposed Kansas-Missouri Bi-State Sustainable Reinvestment Corridor Project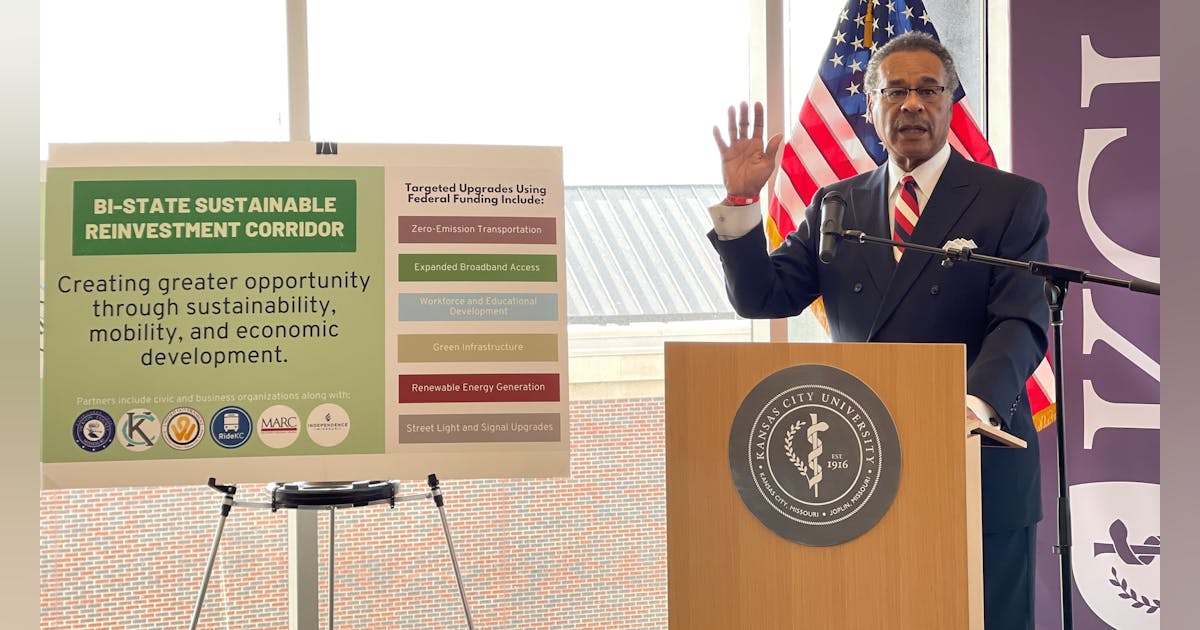 A 24-mile regional rapid transit corridor project has been proposed by a group of elected leaders from Kansas and Missouri who they say will "maximize federal funding" for the bipartisan infrastructure law and create opportunities with investments in sustainability, mobility and economic development.
U.S. Representatives Emanuel Cleaver, II (D-MO-5) and Sharice Davids (D-KS-3), along with Mayors Eileen Weir (Independence, Mo.) and Tyrone Garner (Kansas City, Kan.), along with Jackson County Executive Frank White presented the plan which was also endorsed by the Mid-America Regional Council (MARC), Kansas City Area Transportation Authority (KCATA) and RideKC.
The partners describe the Bi-State Reinvestment Corridor as a "cooperative effort to create and implement a transformational strategy to improve mobility, transform communities and reduce carbon emissions."
Not only is the proposed transit project a cooperative effort among stakeholders, but one of its goals is to demonstrate the potential of integrated investments to improve neighborhood vibrancy, affordability, equity and connectivity. as a model for other corridor-based programs.
"By coming together and uniting behind a comprehensive plan to expand the region's zero-emissions transportation, build our green infrastructure, connect communities in a sustainable way, and facilitate economic development through clean energy, we believe that this corridor can attract key federal investments that will be a catalyst for greater economic growth while reducing emissions and harmful pollution. As we continue to reach out to local stakeholders and neighborhood leaders to see how local projects can fit into this framework, I want to thank Rep. Davids, Mayors Weir, Garner and Lucas, and the Director of White County for their partnership in this exciting effort," said Representative Cleaver.
The Bi-State Sustainable Reinvestment Corridor will target federal bipartisan Infrastructure Act grants that would support:
Zero-emission transport options: Electric buses; new and modernized mobility hubs; expanded KC and MAX streetcar services; and pedestrian and cycling infrastructure.
Affordable housing: energy-efficient renovations; new units and construction; and transit-oriented/connected development.
Green infrastructure: improved canopy cover; improved stormwater systems; charging stations for electric vehicles; and residential solar panels.
Broadband access: implementation of wired and wireless services; increased capacity; and updated equipment.
Improved safety and security: Spotter; license plate readers; community improvement districts; and other public safety technologies.
Economic development: Workforce training; access to child care services; and private investment along the corridor.
Schools and public libraries: Renewable energy and energy efficiency projects to reduce utility costs.
"The Bi-State Reinvestment Corridor is directly aligned with KCATA's mission to provide equitable access to jobs, healthcare, affordable housing and education," said Robbie Makinen, President and CEO of KCATA. KCATA. "We look forward to working with Rep. Cleaver, other Congressional delegates, and the community to build this reinvestment corridor that includes workforce development, green infrastructure, and valuable transit improvements. "
The proposed rapid transit corridor would serve between 85,000 and 90,800 people living within half a mile of the proposed corridor and provide connections to existing KC Streetcar and MAX Bus services.