Tender issued for Scarborough Underground Extension Stations and Rail Package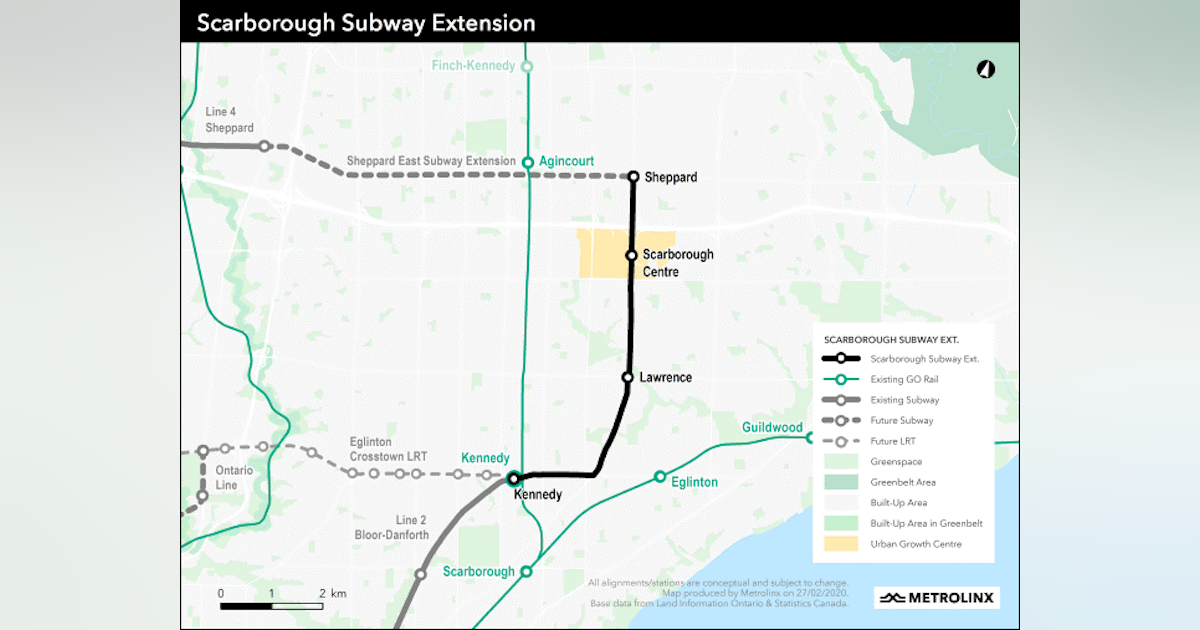 Procurement has begun for the second major contract for the Scarborough Subway Extension project with the issuance of a Request for Qualifications (RFQ) by Infrastructure Ontario (IO) and Metrolinx seeking interested teams to design and build the Stations, Tracks and Systems (SRS) package for the project.
The project will extend Toronto Transit Commission (TTC) Line 2 by 7.8 kilometers (4.85 miles) to Scarborough and the province is pursuing two separate contracts for the project to expedite construction. A contract for the design, construction and financing of the extension tunnel was awarded to Strabag AG in May 2021 and a groundbreaking ceremony for the project took place in June 2021.
"The release of this procurement case for the Scarborough Subway Extension marks another milestone in the [Ontario] First [Doug] Ford's transit expansion plan for residents of Scarborough and [Greater Toronto Area]said Caroline Mulroney, Ontario's Minister of Transportation. "Every project milestone we achieve demonstrates our government's unwavering commitment to building a world-class, fast and efficient public transit system that will reduce congestion, reduce greenhouse gas emissions and get people where they need to be." they must surrender more quickly.
The RFQ describes the scope of work of the contract, including:
Three new metro stations, with associated bus terminals;
Eight emergency exit buildings and other required emergency and safety facilities;
Transition section between Kennedy Station and the TBM extraction shaft at Eglinton Avenue East and Midland Avenue;
Installation, testing and commissioning of all systems equipment including track, ventilation, signals, communications, integrated control system, traction power and all other permanent mechanical and electrical systems;
Four electrical traction substations; and
Integration with TTC infrastructure at Kennedy Station, as well as advanced tunnel infrastructure works.
IO and Metrolinx say the SRS package is being delivered using a phased design-build delivery model in which a "development partner" will be selected to work in conjunction with IO and Metrolinx during a design phase prior to finalize the design-build contract.
"We are making significant progress in providing modern and reliable rapid transit for Scarborough by starting procurement for the stations, railways and systems contract. Securing a team of qualified industry leaders to complete this important part of the project will help us complete the expansion as soon as possible. as quickly as possible for transit riders in Scarborough and area," said Phil Verster, President and CEO of Metrolinx.
Metrolinx envisions each station on the three-stop Scarborough Subway Extension to become major transit hubs that connect to surface routes, helping passengers move seamlessly through a larger transit network.
"Scarborough has a large geographic area and large parts of Scarborough depend on buses to get to the subway," said program sponsor Michael Hodge. "We are building stations which will be important connection points, with buses coming from all parts of Scarborough."
IO and Metrolinx will evaluate submissions and expect to announce a shortlist of qualified Proponents who will be invited to respond to a Request for Proposals in early 2022.
"Infrastructure Ontario is pleased to help build new transit infrastructure in the City of Toronto, helping to provide much needed relief to commuters and families. a partner on board to help us deliver the Scarborough Subway Extension," said Michael Lindsay, President and CEO of Infrastructure Ontario.