Long stretches of sub-zero temperatures and snowy rural roads cause very little travel anxiety for drivers who choose to use a commuted transportation system.
Hopping on a warmed TRUE Transit bus is a reliable choice for residents of three area counties. VINE Faith in Action coordinates the service specifically designed for people residing in the countryside or in small towns that do not offer bus service.
"I'm used to people telling me where to go," said Mike Kinniry of Waterville, who drives one of the service's five buses.
He likes to drive, he says, and knows most of the roads in the area.
"I grew up in the area (plus we have a GPS)."
The TRUE Transit system began operations with one bus in January 2017, providing transit to residents of small towns and rural areas in Blue Earth, Nicollet and Le Sueur counties – which were three of the few counties without service in all the state.
The rural transit system has taken years to develop and is a collaboration between VINE, the Minnesota Department of Transportation, and the three counties.
"The MnDOT wanted every county in the state to have some type of public transit," said Paige Schutte, marketing specialist at VINE.
County officials did not want to take responsibility for providing public transportation, she said.
"VINE was already running a transportation system for the elderly… MnDOT came to us and said, 'You already do this, how about running it?'"
At first, each of the three participating counties had "call-a-card days" where passengers could pay $3 to board a bus to specified cities. The Sueur and Center routes in Mankato were later added to the service.
Mary Scheurer boarded the Kinniry bus on a recent freezing January morning at her home in rural Kasota. The bus sped down a country road through hilly terrain before continuing south on an icy Route 22.
Scheurer, who was due for an appointment at the Mankato clinic, was a first-time client who called to reserve a spot shortly after receiving a letter advertising the service's $5 rides.
She appreciated the convenience and time savings for her family members who often take her to her appointments.
"My kids usually pick me up and then bring me back," she said.
"I'll definitely use it again, but next time I'll go as early as possible in the morning," Scheurer said in a follow-up call after his one-way trip.
She had canceled her return bus trip due to a scheduling conflict over medical appointments. A girl who lives in Mankato brought Scheurer home.
Passengers may encounter a problem in their plans if they are not used to True Transit's daytime hours of operation. Strictly weekday service ends at 5 p.m., with last pick-ups scheduled approximately one hour before.
Kinniry said that from time to time drivers allow some flexibility in their schedules. He remembers bending the rules for a runner who uses a wheelchair. The man had arranged a round-trip bus ride around a medical visit in the afternoon.
"His doctor's appointments were canceled and the guy didn't finish until 6:30 p.m. I waited for him.
"We are not going to leave anyone behind. And when someone has a doctor's appointment at 8 a.m., we make sure they get there.
"I love TRUE Transit," Alyssa Pieper said, complimenting Kinniry as she boarded her bus for a trip from Mankato to the Center to visit her mother.
Pieper, who does not own a car, has been a regular driver for the past three years.
"The bus is so much cheaper than a taxi – it would cost me an arm and a leg," she said.
Kinniry typically handles TRUE Transit's northernmost routes and often drives to pick up passengers in New Prague, a town that straddles the Le Sueur-Scott county line.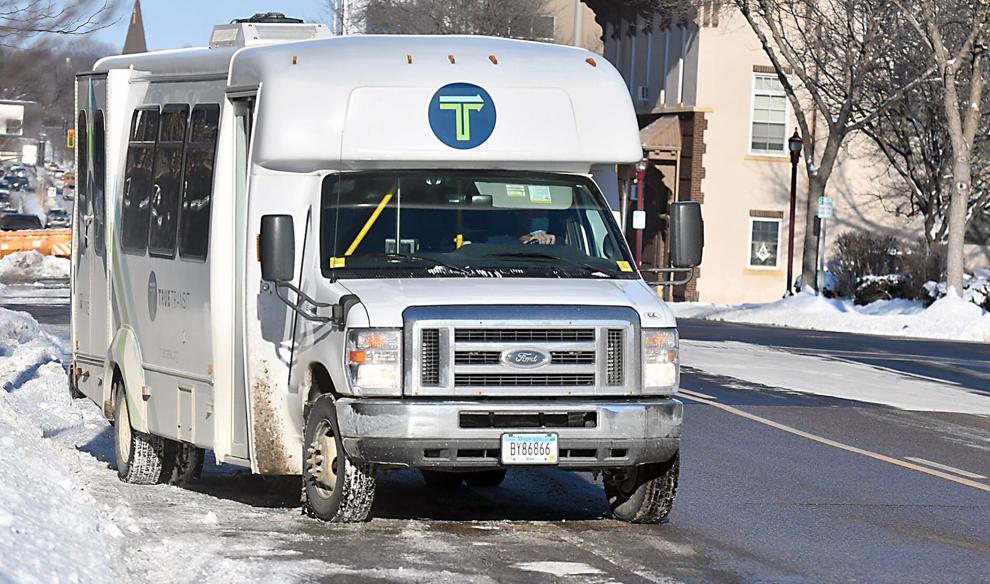 His bus usually has one or two passengers on board at a time.
"I have very, very rarely had a full bus; however, once I transported a group of people from a nursing home so that they could go out to eat somewhere," he said.
His fellow drivers regularly travel to Good Thunder addresses in Blue Earth County or rural residences in New Ulm in Nicollet County.
Troy Krautbauer, of Janesville, started driving for TRUE Transit about six months ago, shortly after his decision to take early retirement. Boredom set in as the coronavirus pandemic dragged on.
"I got tired of sitting still," he said.
Krautbauer said he enjoys talking with his regular runners. "We get to know each other better every time.
Dealing with habitually late runners and no-shows isn't so pleasant, but there's a plan for those situations, Krautbauer said, as he waited for a student from Gustavus who was nowhere in sight.
"We give them three minutes and then we call the office and then they call the runner."
After several minutes of waiting on a sidewalk at St. Peter's campus, Krautbauer started his bus and headed for his next stop.
"We can't be late for our other customers," he said.
To ease the financial situation of its riders during the pandemic, TRUE Transit has waived its fees for more than a year.
"It really helped. I took the bus a lot last year," said St. Peter resident Antonio Robinson.
He started taking TRUE Transit buses five years ago and continues to use the service to and from Mankato about once a week.
"It's cheaper than buying gas," Robinson said, as he helped an older bus pal next to him adjust his seatbelt.
The two men know each other by name. The same goes for their driver that day, Duane McVenes.
"I'm one of the originals," McVenes said while ferrying riders between St. Peter and Mankato.
McVenes, who has been with TRUE Transit throughout its five-year existence, previously drove a Pepsi truck and was behind the wheel of a bus that carried MRCI customers. He was also a volunteer for VINE.
Bus drivers must have business licenses and be certified to drive a passenger bus, he said.
His bus, along with the others in the system, are equipped to securely secure wheelchairs when in use by their owners.
McVenes' recent passengers include an elderly man who uses a wheelchair and his sister. Linda Lange, of Minnetonka, came downstairs to help her brother during a doctor's appointment. Lange has said in the past that she should have found someone to help her with the difficult task of getting her brother in and out of a car.
Before TRUE Transit's first bus hit the road, VINE — its programs typically focused on seniors — worried the service wouldn't be used by young people. These fears turned out to be unfounded.
Ridership increased throughout the system's first year and its management was encouraged to add new stops. The expansion of rural transit service routes in 2019 added destinations for riders in Nicollet and Le Sueur and New Prague counties.
In TRUE Transit's first year, transportation was provided to just over 1,200 riders.
"We've grown so much that we now average around 1,000 rides a month," VINE's Schutte said.
Last summer, she had her first opportunity to ride on one of the system's buses. The chip ordered to repair his car was not available for weeks. She called TRUE Transit to get to work and for her young daughter.
The experience was an opportunity for her to meet the drivers behind the wheel of the program buses in person.
"It's never happened before because they're always on the road," Schutte said, adding that she also got to meet passengers and hear their stories about why they use TRUE Transit.
"I now know what it's like to be dependent on public transit."