UTA set to restore many public transport services and is looking to change the fare structure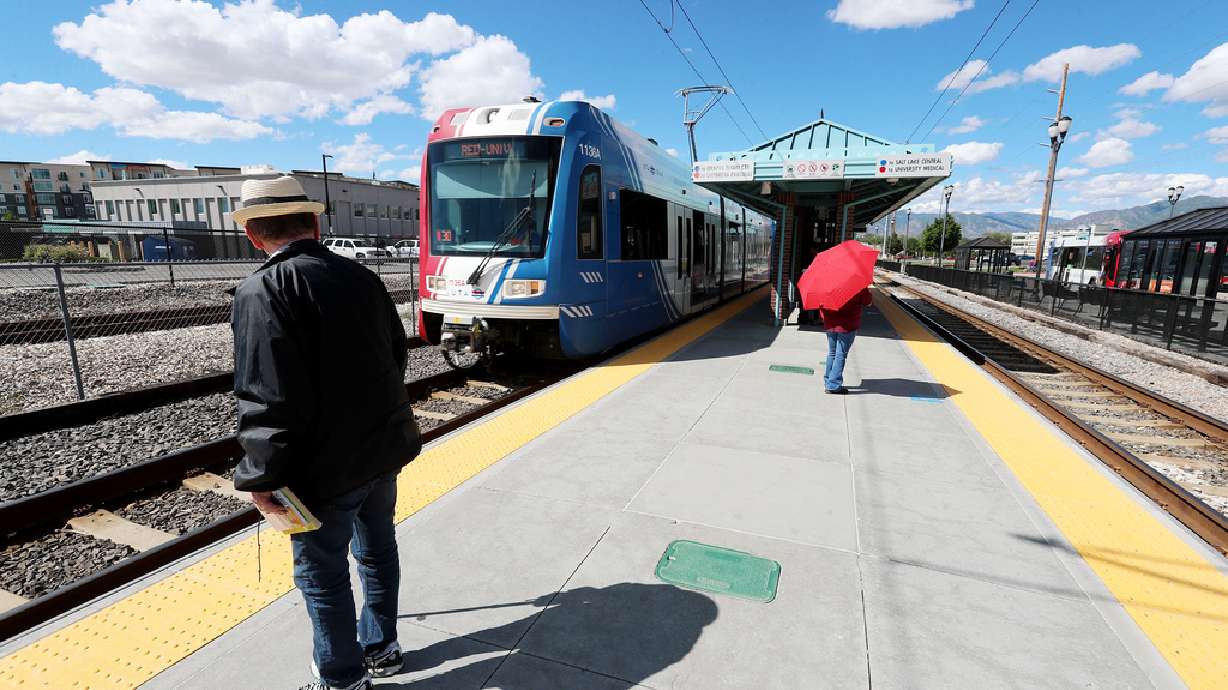 Estimated reading time: 8-9 minutes
This news archive is available for your personal, non-commercial use only. Information in the story may be outdated or superseded by additional information. Reading or replaying the story in its archived form does not constitute republication of the story.
SALT LAKE CITY — The Utah Transit Authority is restoring some light rail frequency, as well as some of its busiest bus routes, as it continues to move amid major drops in ridership created by the pandemic of COVID-19.
Additionally, the agency is propose changes to its pricing structure. A single bus ride will remain at $2.50, but the agency is offering slight cost reductions for express buses and premium monthly passes and round-trip fares; and slight increases for ski buses and Park City Express, as well as regular monthly passes.
Monica Morton, Director of Rates for UTA, said in an online public meeting on Thursday that the agency is looking for the changes with the aim of creating a simple and uniform tariff system which, as things stand, can be complicated.
If approved, officials said in a meeting of the UTA board of directors on Wednesday that they hope that the new tariff system will be operational on November 1st.
Upcoming TRAX, FrontRunner and Bus Schedule Changes
UTA regularly changes route schedules and makes schedule adjustments every few months. Its next "schedule change day" is scheduled for August 23, when the frequency of TRAX and FrontRunner will be ramped up to at least weekdays, and a handful of bus routes will be restored, temporarily suspended or reduced.
The most noticeable change might be on TRAX and S-Line. Starting August 23, the frequency of the light rail system will return to a 15-minute schedule on weekdays until around 6 or 7 p.m. After that, trains will resume running every 30 minutes until the end of the day, as has been the case since April 5. .
TRAX and S-Line services will continue to operate on a 30-minute schedule on weekends, but service will be discontinued on Sundays after 7 p.m. or 8 p.m. starting August 23.
FrontRunner trains will also return to pre-COVID-19 routines during parts of weekdays. Trains will run every 30 minutes during peak hours on weekdays and every 60 minutes at lunchtime and evening. It stays every 60 minutes on Saturdays.
UVX in Utah County will run every 10 minutes weekdays from 7 a.m. to 8 p.m. with no service after 11 p.m. UVX between Provo Central Station and East Bay will operate every 18 minutes and passengers will need to change if traveling south of the station. .
Bus service will be improved or restored for many routes, in some cases returning to pre-COVID-19 pandemic schedules. The seven routes that primarily revert to pre-coronavirus schedules are:
Significant schedule changes are also coming for Itinerary 2 (200 South), Route 9 (900 South), Route 21 (2100 South), Route 33 (3300 South), Highway 35 (3500 South), Route 39 (3900 South), Route 200 (State North State), Route 209 (900 East) and Route 217 (Redwood Road) in Salt Lake County.
All nine routes will resume operating every 15 minutes on weekdays and every 30 minutes on weeknights. Service will operate from 4 a.m. to midnight weekdays and 6 a.m. to 9 p.m. weekends for these routes.
Highway 603 (Weber-McKay Dee State University), Highway 612 (Washington Boulevard) will also resume operating every 15 minutes on weekdays and Saturdays in Weber County. Route 850 (State Street) in Utah County will return every 15 minutes on weekdays and every 30-60 minutes on weeknights.
Bus route 472 (Riverdale-Salt Lake Express) is the only route the UTA is temporarily suspending starting Aug. 23, due to low ridership. The last bus will run on August 21; UTA officials advise using Route 470 after the changeover date.
The other bus lines that will remain suspended are:
MAX buses
Route 2X (200 South Express)
Route 307 (Cottonwood Heights Rapid Bus)
Route 313 (South Valley-University of Utah Rapid Bus)
Route 320 (Highland Drive Rapid Bus)
Route 354 (Sandy-University of Utah Rapid Bus)
Route 456 (Ogden-Unisys-Rocky Mountain Express)
Route 460 (Wood Cross)
Route 461 (Bountiful via State Capitol)
Route 462 (North Salt Lake)
Route 463 (West Bountiful)
Highway 471 (Downtown)
Route 526 (12600 South)
Line F534 (Herriman Flex shuttle)
Route 606 (Enable Industries-Boulevard Monroe)
Route 608 (DTSI-2nd Street)
Route 616 (North Weber FrontRunner Shuttle)
Route 809 (Pleasant Grove/American Fork)
Route 864 (Lehi Station/Thanksgiving Point)
Route 919 (Fairpark-West High School)
Route 920 (Rose Park-West High School)
A full list of UTA schedule adjustments can be found here.
The changes come as the agency reports some rebound in ridership of its services, which remains well below what it was before the COVID-19 pandemic.
Bus, FrontRunner and TRAX lines remain between 64-78% below pre-COVID-19 ridership, but have all seen increased ridership since April 7. FrontRunner has grown 75% since then, while bus services have grown 34%. Light rail has grown by 19% since then, according to figures produced at the UTA board meeting on Wednesday.
Paratransit (211%) and micro transit (102%) have the largest increases in use since April, but both remain well ahead of pre-COVID-19 ridership.
"Obviously we still have a long way to go, but overall, system-wide, ridership is up 32% from our April 7 estimate," said Eddy Cummins, Director of Operations of UTA, during the meeting. "I'm delighted because as we look to August, I think we're going to see another surge in ridership as service is restored."
Proposed changes to the fare system
The way people pay for bus journeys could also change soon, under a new proposal to simplify the fare structure. Morton explained that the changes were considered before COVID-19 and because UTA wanted to create a simple, transparent, efficient and sustainable pricing structure.
The regular bus fare will remain at $2.50 for adults, but premium bus services will be set at $5, if the fare proposal is accepted. Children under 5 will still be allowed to ride for free. FrontRunner and Paratransit fares would not change.
The Ski Bus and Park City Express fare would drop from $4.50 to $5 and the express bus lines would drop from $5.50 to $5. Round trips would be replaced with a day pass, which would reduce round trips from $6.25 to $5 under the proposal.
"Currently the only round trip product is on TRAX and we want to make it easier to pay fares, especially for customers who use public transit all day," Morton said.
Regular and premium monthly passes would be determined on the base fare multiplied by 34 as part of this change. Thus, for a pass user to break even on their purchase, they would need to use public transit 34 times during the month.
Regular passes are set at a daily rate of $2.50 and premium passes at a daily rate of $5. This ultimately means the cost of a regular monthly pass would drop from $83.75 to $85, while premium monthly passes would drop from $198 to $170.
"We looked at the data and it shows that customers using a monthly pass take (transit) about five or six days a week. If we translate that into rides, it's 40 to 48 rides per month, and our goal with monthly passes is to incentivize customers to use public transit frequently," Morton said. "We will achieve this by offering a discount between 15% and 30%. The multiplier of 34 keeps the price within the discount range we have established. »
She said the ski bus service is included in premium monthly passes. Additionally, UTA and Salt Lake City officials are still discussing whether to change the price of the HIVE pass in the future. HIVE is the program between the city government and the transit agency.
UTA's proposal also aims to align discounts. For example, youth passes and Horizon cardholders are currently 25% off, but would drop to 50% off to match the discounts for seniors, Medicare, and the disabled. All monthly passes for these groups would cost $42.50.
RATE PAY bus discounts would drop from 40% to 20% to match TRAX and FrontRunner discounts. This means the bus fare via FAREPAY would drop from $1.50 to $2, but premium bus rides would drop from $4.40 to $4. Monthly passes for low-income people would also drop from $62.75 to $42.50.
Other proposed changes include the removal of 30-day Park City passes and Flex Route diversion passes.
At Thursday's meeting Morton said the UTA had explored the possibility of moving to a cashless system but would continue to accept cash as it is the only way to accommodate some riders who can only pay under this form.
The public has until August 21 to provide feedback on the changes, which can be submitted on the UTA website.
×
Related stories
More stories that might interest you